Three more Su-30SM fighters arrived at a military airfield in Chernyakhovsk, Kaliningrad Region, which were part of one of the squadrons of the marine airbase
aviation
Of the Baltic
fleet
(Bf).
The pilots of the mixed squadron of the naval aviation fleet, who had undergone planned retraining for the new aircraft, took the aircraft at the factory in Irkutsk and flew to the Kaliningrad region.
- reports
press office
Western Military District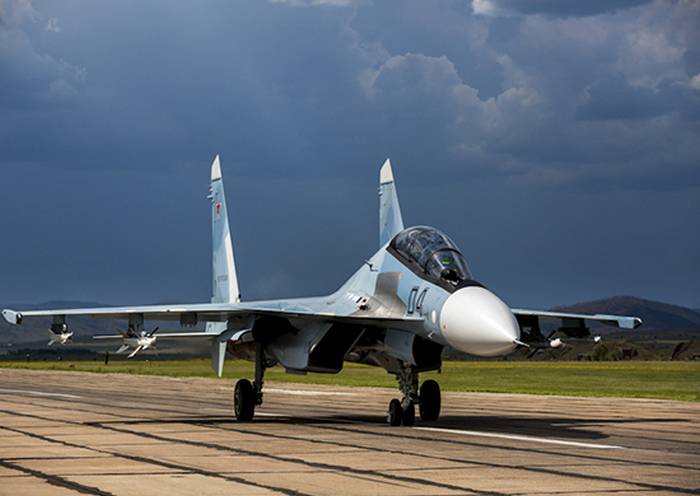 The retraining of pilots who were approved for piloting new aircraft was held at the Lipetsk training center and retraining of flight personnel. The officers studied the tactical and technical characteristics of the aircraft, its technological base and piloting features. After theoretical classes, the crews completed a specialized course on ground-based simulators.
In total, over the past 9 months, 6 fighters of this type have been delivered to the BF. The first Su-30CM arrived at the naval aviation base in December 2016.
Within the framework of the State Defense Order in 2017-2018, BF planned to deliver several more Su-30CM fighter jets to naval aviation.
The Su-30SM fighter was developed by the Sukhoi Design Bureau and is mass-produced at the Irkutsk Aviation Plant, a branch of PJSC Irkut Corporation. Su-30CM - the latest modification of the Russian multipurpose heavy fighter Su-30 generation 4 +, has super-maneuverability, is equipped with a radar with a phased antenna array, engines with controlled thrust vector and front horizontal tail.
The aircraft uses modern and advanced high-precision weapons of the air-to-air and air-to-surface class. Among the advantages of the Su-30CM - without refueling and hanging tanks, the car travels up to 3 thousand kilometers.