The Ka-52K shipborne reconnaissance and attack helicopter will test for the stability of the vehicle's on-board equipment to electromagnetic interference,
сообщает
Department of Information and Mass Communications of the Ministry of Defense of the Russian Federation
Currently, preparations are underway to conduct tests to assess the durability of avionics and
aviation
means of destruction to the influence of external electromagnetic fields. A new inertial navigation system is also being tested.
- stated in the material provided to "Military Review"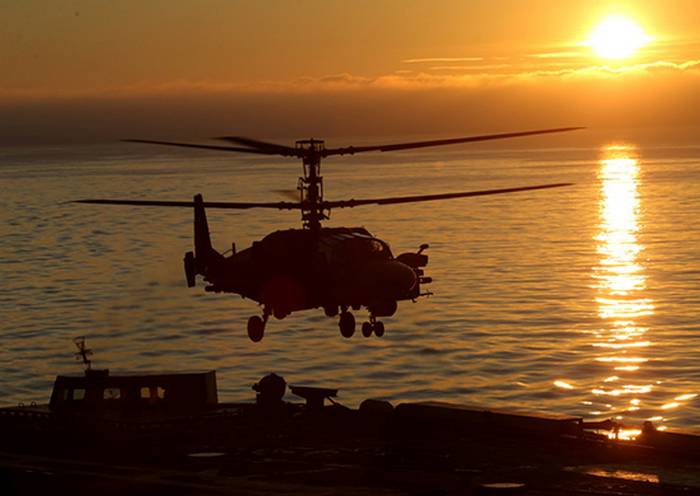 The Ka-52K all-weather reconnaissance and attack helicopter is intended for patrolling, assault fire support during disembarking, solution of anti-amphibious defense tasks on the front edge and in tactical depth at any time of day. Modern onboard equipment provides the helicopter navigation in the absence of landmarks in the sea.
The ship-based Ka-52's reduced dimensions make it possible to increase the maximum possible number of helicopters placed on the ship. The crew's armored cockpit and the use of a catapult system that is unique to the world helicopter industry provides pilots with the maximum level of security that cannot be offered on any helicopter of this class produced abroad. Another important feature of the Ka-52K is the use of corrosion-resistant materials, due to the need to operate the machine in a humid maritime climate.