Informational portal
"Russian Bulgaria"
announces an "incident" in celebration of the 140 anniversary of the Battle of Shipka. In the reconstruction of the Russian-Turkish battle, around 250 representatives of various military-patriotic clubs from different countries were engaged. The "incident", commented on by high-ranking Bulgarian officials, was that the flag of the Donetsk People's Republic was unfurled during the celebration.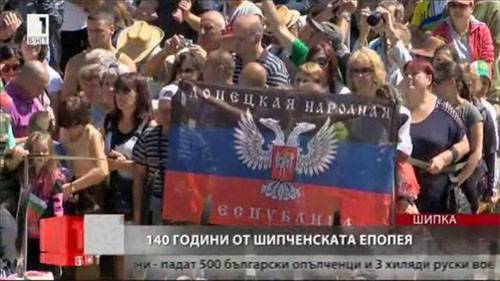 Commentary by the Deputy Prime Minister and Minister for Foreign Affairs of Bulgaria, Yekaterina Zakharieva:
I saw this photo on social networks - nasty
история
. We are a free state and everyone has the right to their opinion. It is very unpleasant that it was during the celebration of the Shipka epic that the flag of the republic was deployed, which no one recognized and which is a symbol of a violation of legal norms, a threat to peace and security in Europe.
The head of the Bulgarian Foreign Ministry said that Bulgaria is a democratic state in which everyone can express their opinions. According to Zakharieva, she personally does not support the deployment of the DNR flag.
For reference: last Saturday (26 of August) several thousand people climbed to the top of Shipka to pay tribute to the Russian soldiers and Bulgarian militia who died for the freedom of Bulgaria from Turkish rule. The procession was led by President Rumen Radev and Metropolitan Grigory of Velikotyrnovskiy.