The units of the Eastern Military District completed the redeployment to Mongolia at the Zuunbayan training ground, where a joint Russian-Mongolian exercise Selenga-2017 will be held, reports
press office
BBO.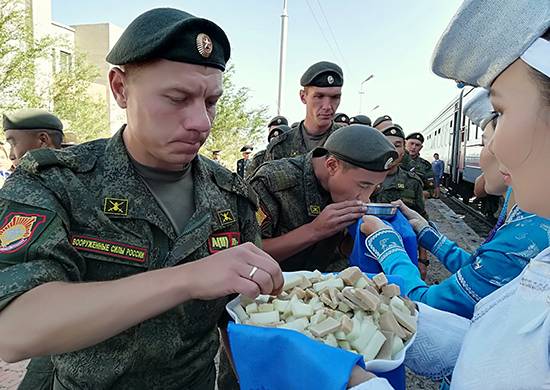 According to the Mongolian tradition, Russian soldiers were met at the railway station with milk and Mongolian Aarul cheese, served on a special towel called Khadag. After the solemn meeting, the units unloaded the combat equipment and marched to the field camp, which the Mongolian side prepared in advance,
says release.
It is reported that "a tactical group from a separate motorized rifle unit of the district deployed in the city of Kyakhta (Republic of Buryatia) is taking part in the exercise, in particular, these are motorized rifle and
tank
units, mortar battery, multiple launch rocket systems, platoon rkhb protection, reconnaissance company. "
The Selenga joint exercise will be held for the first time in the difficult climatic conditions of the Gobi Desert. The military will work out the elimination of conditional illegal armed groups.