The first stage of the transportation and installation of the railway arch of the Crimean bridge weighing more than 6 thousand tons began in the Kerch Strait, reports
RIA News
.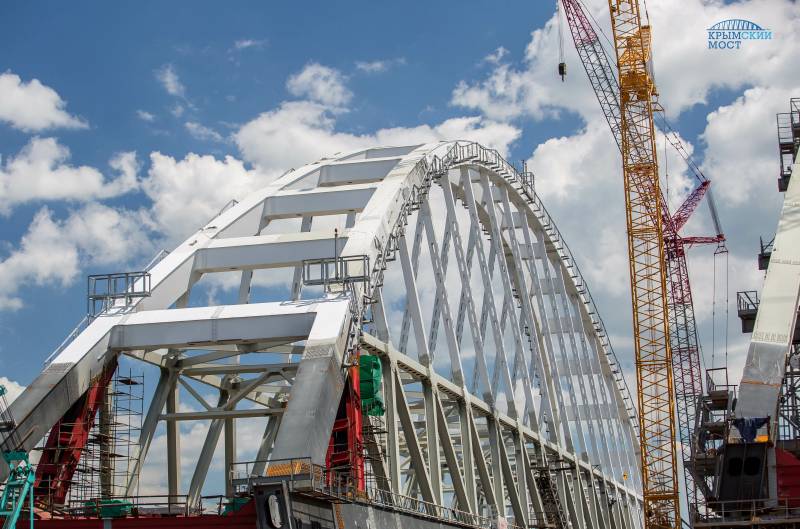 The maritime operation in the Crimean Bridge project is without exaggeration unique for bridge construction: it is transportation, and then lifting and installation in a marine area with an unstable hydrometeorological background of the arched structure, which weighs more than 6 thousand tons. However, such an operation would have been impossible without the gigantic experience accumulated by bridges in other projects. So our maritime operation is the result of many years of practice and advanced technologies of domestic and world bridge construction,
said Leonid Ryzhenkin, Deputy Director General for Infrastructure Projects of Stroygazmontazh LLC.
It is reported that on the eve of the builders prepared the arch and loaded it on floating supports. Early in the morning, the construction began to be transported to the bridge bridge.
"The arch is transported five kilometers from the coast, more than ten ships and over 100 people participate in this part of the operation. Then the sailors will lead the navigation system between the fairway supports and fix them with anchor cables. At this time, all the necessary lifting equipment will be fully prepared on the supports, "the Crimean Bridge information center told.
After that, the arch will be fixed with almost 700 high-strength cables that are stretched to the construction of 16 jacks. "The construction will begin to rise to the design height at an average speed of five meters per hour, after which they will be fixed with wind ties to the girders of the fairway supports," the information center added.
It is noted that the installation of the arch will take no more than 72 hours, all this time shipping in the Kerch-Yenikalsky channel will be limited. It will take about a month for the final assembly of the structure to the fairway supports.