Moldavian President Igor Dodon said on Saturday that he had blocked the draft approved by Parliament to celebrate 9 in May not only Victory Day, but also Europe Day.
At the end of April of this year, the Parliament of the Republic amended the Labor Code, according to which the article "Official holidays" added another item "May 9 - Europe Day." It will follow immediately after the point "May 9 - Victory Day and the memory of the heroes who fell for the independence of the motherland." This initiative caused controversy among the deputies, but the parliament had enough votes to approve the amendments in two readings at once. Dodon then announced that he did not intend to approve the project, stressing that "in Moldova 9 May was celebrated and will celebrate Victory Day", reports
RIA News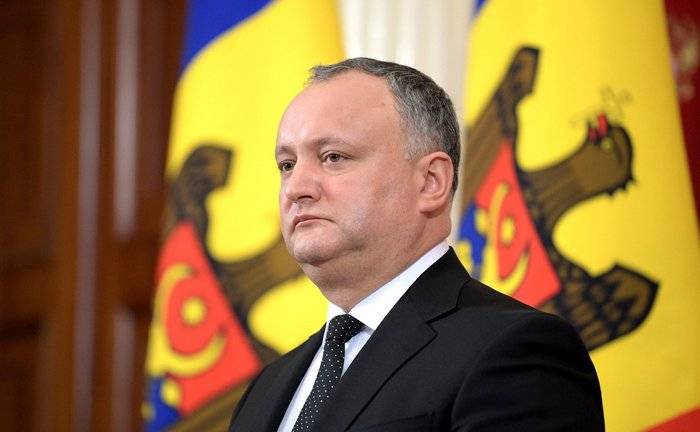 On Saturday, Dodon spoke in Chisinau at the international conference "The heroism of Soviet soldiers, manifested during the liberation of Moldova from the fascist occupation, through the eyes of descendants."
In Moldova, the majority of citizens consider themselves to be the victors in the Great Patriotic War. Every year on May 10, tens of thousands of people take to the streets of Chisinau. Every year in Moldova they do everything possible to ensure that the monuments of World War II are in good condition. We do not destroy monuments, but repair and erect new ones. Unfortunately, we see what happens in some countries when monuments are destroyed, when they try to erase the great feat of the Soviet soldier. Such countries and such peoples have no future.
- said the Moldavian president.
He recalled that in Moldova there were attempts to "change 9 May for Europe Day."
I want to say that I blocked the corresponding bill, which was passed by the parliament, it did not pass. I believe that 9 May was, is and will be Victory Day, it cannot be otherwise
- noted Dodon, stressing the importance of the Yassy-Kishinev operation, thanks to which Moldova was liberated. According to him, the majority of citizens of the Republic of 24 of August celebrated Liberation Day.