The Russian Geographical Society together with the Ministry of Defense of the country continues the research mission in the area of ​​Matua Island (the Kuril ridge) and on the island itself. As a result of research activities, a sunken ship belonging to Germany was discovered. According to the press service of the RGO, it was initially considered that the discovered sunken ship was Japanese. However, the hard work carried out by specialists of the Center for Underwater Research made it possible to determine the German identity of the ship.
From the message
RGO
:
Initially, researchers thought that the Japanese ship Roi Maru, which the Americans torpedoed during the war, might have been at the bottom. But upon closer inspection, it turned out that the ship was still of German origin. On the marking plate found by divers, the inscription "Augsburg" is clearly visible - the so-called armored German cruiser, transferred to Japan as reparations in the 1920 year.
The Center for Underwater Research of the RGO explains the discrepancy by the fact that ships often transferred or sold to another country, in which they were given a different name. Specialists of the Russian Geographical Society plan to contact their German colleagues to find out
history
origin of the vessel.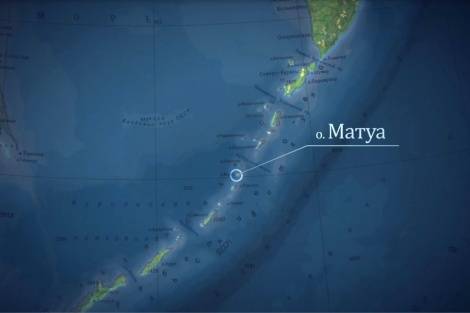 The research activities at Matua by the specialists of the Russian Geographical Society and the Ministry of Defense of the Russian Federation have been carried out since 2016. During this time, managed to find many samples of Japanese military equipment. Also, a series of studies were conducted on the activity of the Sarychev Peak volcano, underwater topography, island contours, soil conditions and fortifications at Matua.
Recall that during the Second World War on this island was a large naval base of militaristic Japan.