In the student design bureau of aviation modeling (SKB-AM) of the Moscow Aviation Institute, a unique unmanned aerial vehicle (UAV) was developed by the order of Concern VKO "Almaz - Antey", capable of carrying automatic firearms
weapon
and to produce aimed shooting at flying objects, while maintaining full controllability, the Public Relations Department of the Moscow Aviation Institute reported to Military Survey.
Developments of this level of complexity have not previously been presented by either Russian or foreign design bureaus. Engineers from MAI managed to create a system that effectively stabilizes the device in the air when firing. In the development of innovative solutions implemented in the layout of the aircraft and the damping system.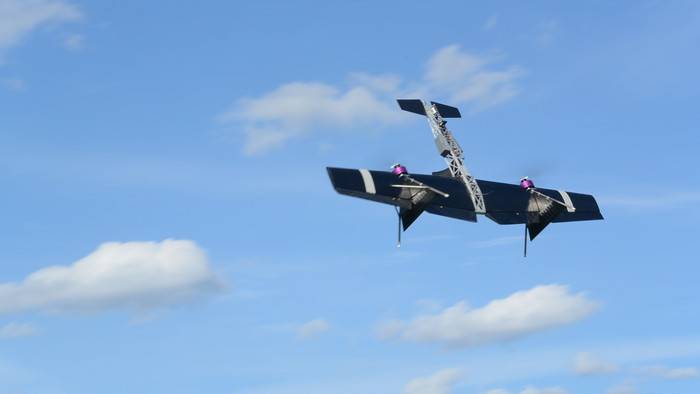 When creating this development, a number of interesting engineering problems were solved. If the main goal of developers is the quality of flight when constructing a "normal" UAV, here it was necessary to fix a weapon on the aircraft and to ensure both maximum stability and high accuracy of hitting the target
- the head of SKB-AM MAI, Igor Trifonov, said
The vertical take-off and landing UAV created in MAI (the model has not yet received a name) has a wing span of three meters, its flight weight is 23 kilogram, and the flight time is 40 minutes.
This UAV is implemented according to the "Duck" aerodynamic scheme: this made it possible to concentrate the application of forces from firing closer to the center of mass of the apparatus, which would have been impossible with the classical scheme,
- Igor Trifonov explained. -
To start the device does not require a catapult or a runway, thus ensuring the mobility of using a new design, the device can take off from any surface and without the time spent on deployment.
Earlier in MAI, unmanned aerial vehicles of vertical takeoff and landing under the "Duck" scheme were already created, but this development is the first one that is capable of carrying automatic firearms and producing high-precision firing at air targets. The previous sample solved the problems of developing algorithms and systems for flight modes and vertical take-off / landing.
The development is controlled by the operator through a visor: on-board television systems for detecting, targeting and aiming are installed on the device. The shooting complex at the time of testing was implemented on the basis of the smooth-bore carbine "12 Wild Boar Hammer" 12 caliber with electronic lowering and box magazine on 10 cartridges. The device makes shots in automatic mode, continuing to fly with a given course, and if the target is not hit, then you can continue to follow the object without further adjusting the course.
Work on this project at SKB-AM MAI started in October 2016. At the moment, the development has passed a full cycle of tests, including an assessment of shooting accuracy and controllability, and has been handed over to the customer.
In the closed pavilion of the Concern VKO "Almaz - Antey" on the forum "Army-2017" our UAV occupies a central place.