A single air defense system (Air Defense) was created in Syria thanks to the efforts of Russian and Syrian military specialists. About this at the international military-technical forum "Army-2017" during the round table, which is devoted to discussing the Syrian experience, said the chief of staff - Deputy Commander of the Air Force of the Main Command of the Aerospace Forces (RFL), Major General Sergei Meshcheryakov, reports
TASS
At present, a single integrated air defense system has been created in Syria. Information and technical interface of Russian and Syrian airspace reconnaissance equipment was provided. All information about the air situation from the Syrian radar stations arrives at the command posts of the Russian military force
- he said.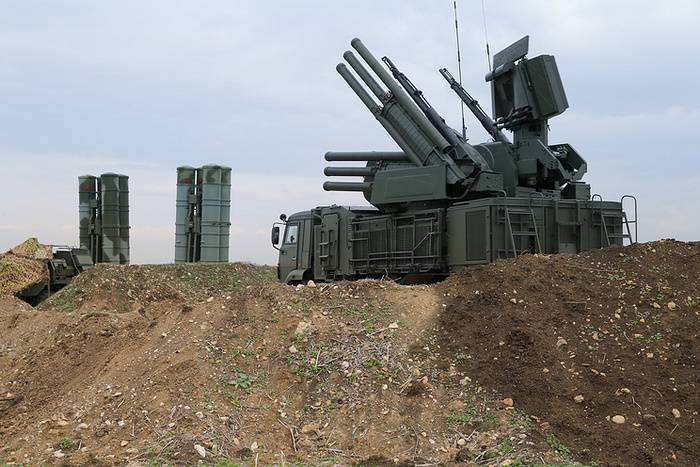 The Russian air defense force in the Khmeimim airfield area includes a radio engineering battalion, a Pantsir-S anti-aircraft missile and cannon system battery, and C-400 anti-aircraft missile systems.
In the zone of destruction of anti-aircraft missile systems are all air targets in a radius of 400 km at altitudes of 35 km
- noted Meshcheryakov.
Also, the Russian Federation has deployed systems in Syria to protect against unmanned aerial vehicles (UAVs) and their defeat, said Major General Alexander Novikov, head of the department for construction and development of the UAV application system of the General Staff of the Armed Forces of the Russian Federation.
In order to effectively combat unmanned aerial vehicles, a system has been created in the Russian Armed Forces in Syria, which includes detection and warning subsystems for flights of unmanned aerial vehicles, electronic suppression, and fire damage
- Novikov said during a roundtable discussion at the Army-2017 forum.
According to him, the subsystem includes air defense systems, electronic warfare systems, air surveillance systems. The major general declared that the defeat
drones
carried out by special calculations using small arms
weapons
.