In Ukraine, during the celebration of the days of the national flag and "independence", local authorities were concerned not to lose face in front of Kiev. In particular, the directive on the need to hang the flags of Ukraine on the houses of residents of a settlement, in which one or another official is responsible, passed through the implementation. Most of the others tried, as it turns out, Chernigov officials, who decided that the flags of Ukraine should "hover" over each of the housebuildings.
The leader in the number of Ukrainian flags per square kilometer of territory was the Chernihiv village of Avdeevka, Kulikovsky district. It was announced that "above each hut" a Ukrainian flag was hoisted, which he announced (this is a quote from local residents, which is cited
TSN
) "about the absence of separatists in the village".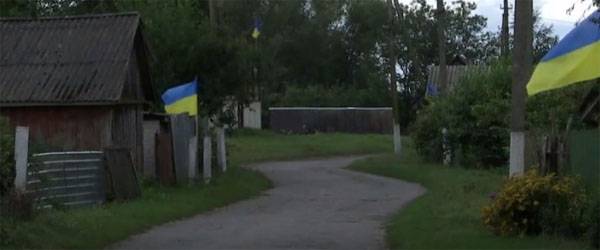 It is reported that a total of 9 "yellow-blakitnyh flags" were posted in the village consisting of 317 streets. Then it was added that in this way Chernihiv Avdiivka "transferred the baton of patriotism to" Avdiivka Donetsk. To "patriotism" near Chernigov got into the annals of the Ukrainian
stories
, representatives of the National Book of Records arrived in the region.
And this is a comment by journalists of Ukrainian TSN about the event in Avdiivka:
Banners shot on every home - and this is an unsurpassed achievement.
Apparently, the next step in proving that a resident of Ukraine is not a separatist will be the legislative consolidation of the need to walk with the Ukrainian flag on the street and not let it out of the hands ...