According to the blog information
bmpd
official
President's website
Azerbaijan reports on the launching of the fourth S-24 second border patrol ship S-204 of the Israeli project OPV 62 on August 62 (the designation Saar 62; Azerbaijani designation type Tufan is also used). After that, the ceremony of laying the sixth ship of the OPV XNUMX project was held.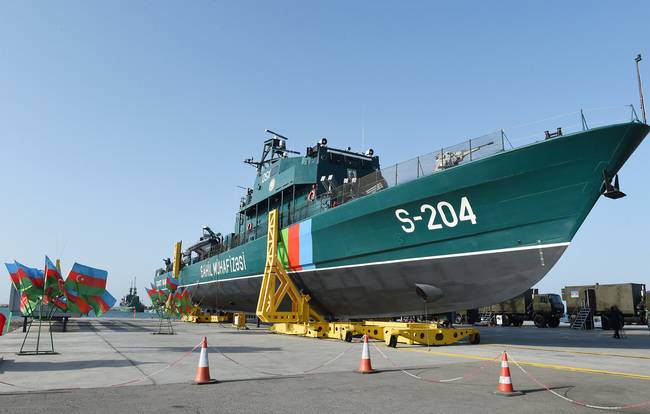 4-th OPV 62
The construction of the ships is carried out by the Center for construction and repair of ships of the Coast Guard of the State Border Service of Azerbaijan in Turkan, which was opened on July 18 of the year 2014. Since its inception, the company has been engaged in the implementation of the 2011 contract with the Israeli export defense agency SIBAT and the shipyard Israel Shipyards (Haifa). The agreement provides for the construction of Shaldag Mk V and 6 small patrol ships of the OPV 6 project for the local coast guard 62 of the Shaldag Mk V and XNUMX speed patrol boats.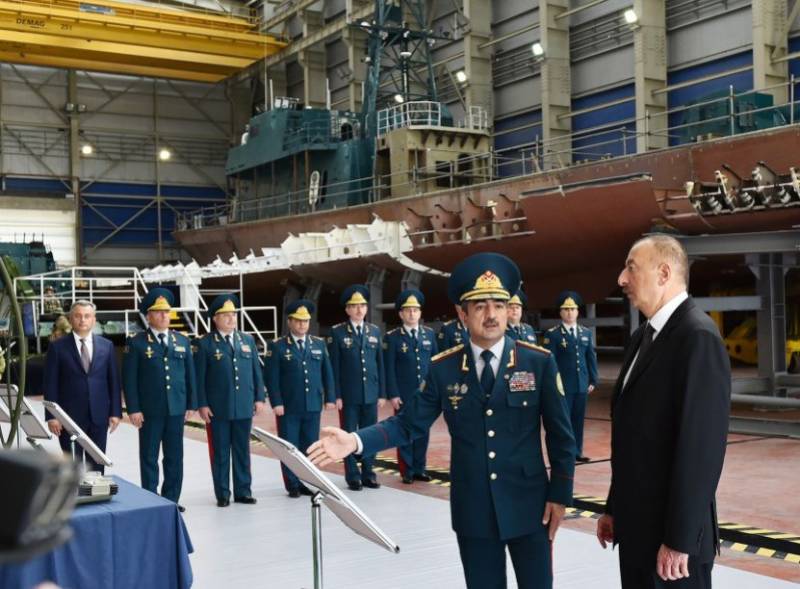 Bookmark 6 th OPV 62
Apparently, the Center is engaged in assembling ships and boats of the indicated types from designs supplied by Israel Shipyards. Installed weapons and equipment are also shipped by Israel.
The 6 boats of the Shaldag Mk V project were assembled in Turkan and handed over from summer 2014 to autumn 2015.
Lead patrol ship
The OPV 62 (Tufan type) project for the Azerbaijani Coast Guard S-201 was launched in the 9 Turkan on September 2015, the second S-202 ship was launched 17 on June 2016, and the third S-203 ship was launched on 13 on January 2017. All three have now been commissioned.
Azerbaijani ships of the OPV 62 project have a full displacement of 470 t, a length of 61,79 m, a width of 7,62 m and a draft of 2,77 m. A three-shaft diesel power plant provides the full speed of 32 knots. Navigation range 13-nodal speed reaches 5000 miles, 16-node - 3200 miles.
The armament is represented by an eight-charge launcher of the Rafael MLS NLOS shipborne missile system with Rafael Spike-NLOS guided missiles with a range of up to 25 km (20 ammo). There is a tank-remotely operated automatic gun mount Rafael Typhoon (using one 23-mm automatic cannon 2A14 from ZU-23), two remotely controlled devices Rafael Mini Typhoon c 12,7-mm machine guns M2NV and two 12,7-mm and two 7,62-mm machine gun on hand turrets. In the stern of the ship is a runway for a light helicopter. An Israeli-made modern electronic equipment was installed, including the IAI Elta SGRS EL / M-2228X combined radar for detecting and controlling fire, the Rafael Toplite electronic-optical fire detection and control system, and the Rafael Wizard jamming complex.
The company is also planning to build two 72-meter rocket corvettes from the Saar 72 project. The construction of the head corvette began in 2016 year.