A military parade on the occasion of the 26 anniversary of the independence of Ukraine took place on Thursday in the center of Kiev. For the first time, NATO servicemen took part in it,
TASS
The Minister of Defense of Ukraine Stepan Poltorak met participants in the parade at the American military Hummer instead of the traditional Soviet car GAZ "Chaika" with an open top.
In total, around 4,5, thousands of servicemen marched along the main street of the capital, Khreshchatyk, of whom more than 230 were representatives of the countries of the North Atlantic Alliance, and more than a thousand were participants in the military operation in Donbass.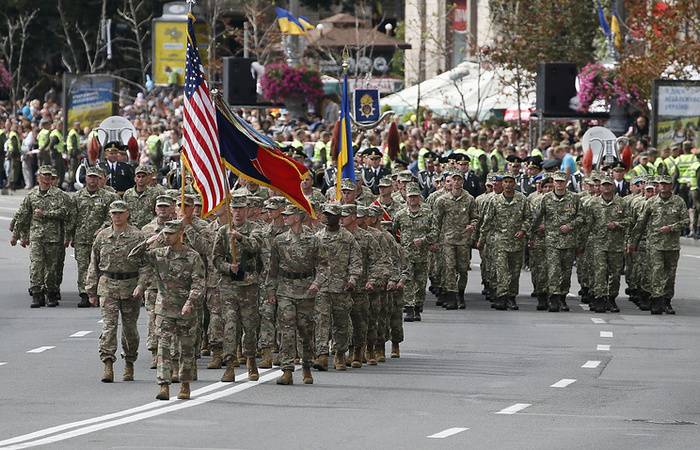 At the invitation of Ukraine, ministers of defense and delegations from nine countries — the USA, Great Britain, Poland, Lithuania, Latvia, Montenegro, Estonia, Turkey, and Moldova — also arrived in Kiev.
This year, military equipment did not take part in the celebrations; instead, on the Khreshchatyk, the Ministry of Defense organized an exhibition of military equipment, "The Power of the Unsubdued."
Speaking to the audience, President Poroshenko once again announced that Kiev is strictly following the path of integration into the EU and NATO.
We have one road: a wide Euro-Atlantic autobahn, which leads to membership in the European Union and membership in NATO. On this way, we have already destroyed the visa curtain.
- He said, referring to the introduction of a visa-free regime with EU countries. The President said that Ukraine continues to reform its Armed Forces to meet NATO standards, and has traditionally accused the Russian Federation of the situation in the Donbas.
The Minister of Defense of Ukraine Stepan Poltorak said during the celebrations that, according to NATO standards, 28 combat units of the country's Armed Forces had already been trained.
Now reforms are continuing in the Ukrainian army, which are unprecedented in scale and ambition in
stories
. Reforms are being introduced along with advisers and experts from NATO countries. By NATO standards, 28 combat units have already been trained. We are building the Armed Forces, which must reach the highest level of partnership with the North Atlantic Alliance
- noted Poltorak.
Full version of the parade: