As the
InoTV
, the German edition of Berliner Morgenpost has published material in which it is concluded that the German politician Frank-Walter Steinmeier's attitude towards Russia has changed.
According to the author of the article, Christian Curl, German President Frank-Walter Steinmeier, during his official visit to the Baltic States, headed for a "demarcation from Russia". He stated the need to "strengthen the resistance to Russia's hidden attempts to exert influence." According to the head of the Federal Republic of Germany, the "campaigns for disinformation" to which Germany is subjected, are aimed at Estonia with increased pressure and represent a "threat to democracy".
In response to concerns expressed by Estonian President Kersti Kaljulaid regarding the planned 13 maneuvers in September of thousands of soldiers of the Russian Federation and Belarus, Steinmeier intends to give a speech in which he "distances himself from Moscow and promises support for the Balts in the event of Russian aggression". However, he pointed out that such a position should not lead to "a rejection of dialogue and blind hostility towards Russia."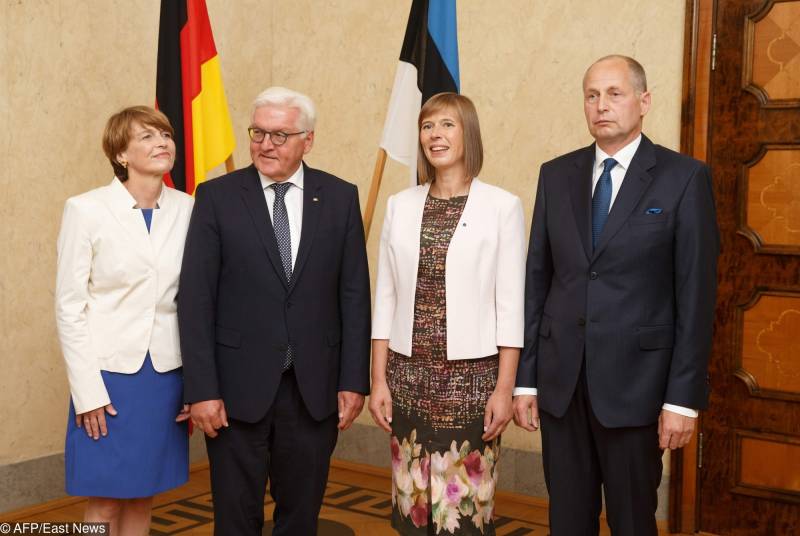 Steinmeier and Kaljulaid with spouses, Tallinn, 22.08.17
As an example of "covert intervention through hybrid means and targeted disinformation," he cited the "case of Liza", when "false information about the alleged rape of a Russian German woman" was replicated in the media in Berlin.
Steinmeier criticized Vladimir Putin's claims to protect ethnic Russians abroad:
No foreign country has the right to act as a guarantor of any group in our country.
However, he declared that the West did not want to return to confrontation, much less to fight with Russia, in this regard, he believes that the Balts should not do
historical
memory of the "Russian occupation" by the "new line of conflict."
The author of the article believes that Steinmeier's rhetoric has changed. In the role of foreign minister, he was attacked for being "overrepresented with Russia." In 2016, he warned the West of "sabering
weapons
", And during the last visit to the Baltic States, he called for arms control in Eastern Europe and negotiations with Moscow. Such proposals were "strongly rejected" by the Balts, in connection with which Steinmeier, after becoming president, no longer voiced them, the author believes.