According to the news portal
Flotprom
The Northern Design Bureau for the first time presented at the Army-2017 forum an export version of the medium landing ship (KFOR) of the 21810 project.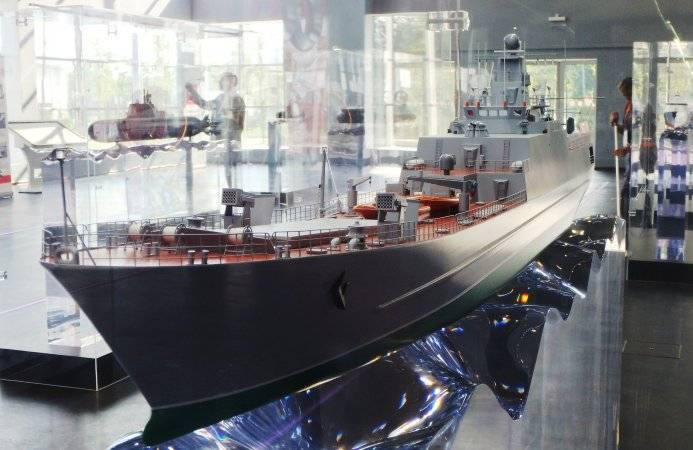 The project is said to have been going on for about 10 years. The absence of an order from the country's military department forced the enterprise to create an export modification.
KFOR of project 21810 is intended for landing on an unequipped shore and destruction of enemy forces before landing. The ship's displacement is about 1600 tons, length - 97 m, width - 11 m. KFOR is capable of speeds up to 16 knots, its autonomy - 30 days, cruising range - up to 2,5 thousand miles. The crew of the ship is 47 people. He is able to carry five
tanks
weighing up to 55 tons each, as well as up to 200 people, including tankers, and 300 tons of military cargo.
The armament is represented by the flamethrowing and incendiary shipboard A-22 "Fire" complex (110 rocket projectiles of the X-NUMX caliber 45 mm) and the unguided rocket complex
weapons
A-215 "Grad-M" with two launchers MS-73 (110 reactive high-explosive shells M-21OF caliber 122 mm. Installation two 30-mm automatic gun mount AK-630M or two anti-aircraft missile and gun systems "Palm" 8 MANPADS "Igla" make antiaircraft armament. A helicopter with a mass of up to 12 tons can be on board the ship.
The export version of the assault ship is supposed to be equipped with two Finnish Wartsila diesel engines with 2700 kW each.