In the US, versions are being put forward regarding the possible reasons for the next collision of a US warship with a civilian vessel Alnic MC. Recall that we are talking about the collision of the destroyer "John McCain" US Navy with a merchant ship in the Malacca Strait. As a result of the collision, the 10 of the US Navy sailors are missing, another five were injured of varying degrees of severity.
Representatives of the US military command have announced that they are considering several versions of the incident, including such as sabotage by individual team members and cyber-interference.
At the moment, the commander of the naval operations of the US Navy, Admiral John Richardson, states that "no signs of cyber intrusion and sabotage have been identified, but all versions will be carefully studied." About this he tweeted, commenting on the process of investigating the causes of the collision of a warship with a civilian merchant ship.
Now the American destroyer is at the Singapore base, where he is examined by experts of the US Navy.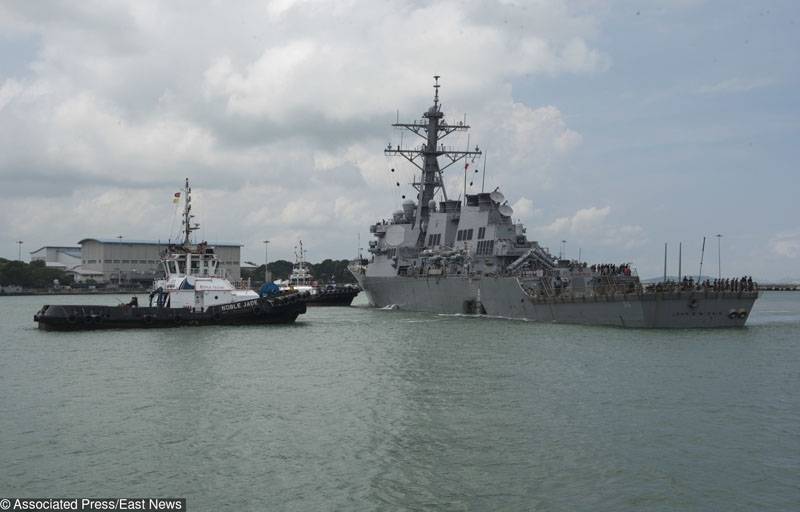 Meanwhile, a search and rescue operation continues in the Strait of Malacca with the participation of the ships of the Singapore Navy and the United States. Is used
aviation
. Searches have not yet yielded results.
On the eve of Senator McCain said that we need to pray for the missing sailors.
Recall that the destroyer is named in honor of the two admirals of the US Navy, although in the United States it is generally accepted that in honor of the current senator (former pilot) McCain, too.