In Ukraine, they continue to count losses from the purchase of used military equipment from Western partners. One of the most scandalous contracts of the last time was an attempt to purchase from the British "practically at a bargain price" (as stated in Ukraine itself) AT105 Saxon armored personnel carriers, which were released before the 1989 year. The scandal is due to the fact that the British have actually requested for a completely worn-out technique for 50 thousand dollars (per unit). In total, Kiev for the APU planned to buy an impressive fleet of AT105 Saxon - about 75 units.
As a result, when the first British armored vehicles began to be delivered to Ukraine, it turned out that this was not just a decommissioned vehicle, but also a vehicle completely devoid of any weapons. The British simply removed their weapons and additional equipment from the armored personnel carriers, sending "metal boxes" to Ukraine for testing. In Ukraine, began to "hang" his. "Power" of the British technology tried to evaluate personally President Poroshenko.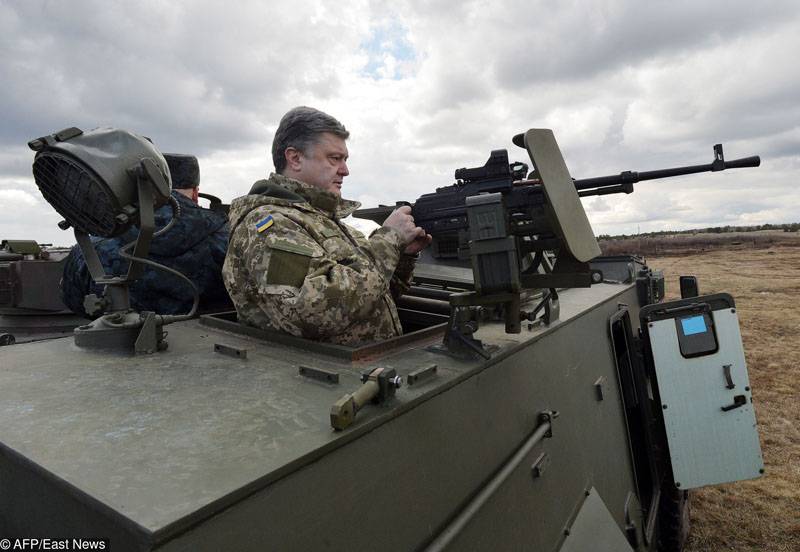 Representatives of the Armed Forces of Ukraine in social networks did not regret and do not regret the caustic epithets about the fraternal military equipment from Britain. When the armored vehicles began to demonstrate their inability to overcome even the most seemingly "light" (relatively) irregularities, the APU realized that Ukraine had been inflated again. As a result, Kiev decided to give up "large-scale assistance" in the form of "Saxons", although the money spent on the purchase of "test" samples was not returned to Ukraine. They understand that Kiev will not sue the British supplier to any court.
Back in 2015, the deputy of the Verkhovna Rada of Ukraine Oleksandr Kuzhel from the Batkivshchyna party announced its intention to seek an answer through the General Prosecutor's Office of Ukraine to the question of who intends to return the spent budget funds when they ask. Two years have passed - the question is still open ...
Against such a background, Ukraine again raises the question that it is necessary to negotiate with Ankara on the possibility of purchasing ships (including submarines) for the needs of the Ukrainian Navy. We are also talking about written-off funds, Turkish funds
fleet
.
Ukrainian experts are of the opinion that corruption channels have been finally formed in the Defense Ministry of Ukraine, through which budget funds are plundered through the purchase of decommissioned equipment from NATO countries. So far, the specific names of the persons involved in these schemes are not called, but over time all secrets can become apparent.