At the proving ground in the Stavropol Territory, Su-25 crews during the exercise destroyed the base of conditional saboteurs, reports
press office
Southern District.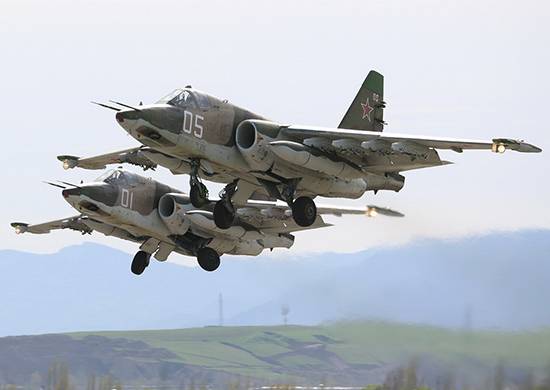 The crews of Su-25CM attack aircraft of the assault air regiment of the Southern Military District during the planned flight tactical exercises destroyed a large base of conditional illegal armed groups (IAF) at the proving ground in the Stavropol Territory,
says release.
According to the teachings legend, "in the territory of this region, in a wooded area of ​​a mountainous area, conditional terrorists were equipped with a training camp to train 20 sabotage and reconnaissance groups of 10 people in each."
"Using the coordinates of targets obtained by reconnaissance aircraft, the Su-25CM attack aircraft made several combat missions with the launch of guided missiles and the discharge of adjustable bombs, while destroying the objects of the conditional base of militants, including 5 large caches
weapons
and ammunition, as well as the "saboteurs", "- told in the district.
In addition, the crews worked in the event of failure
aviation
technology, evading attacks of fighter aircraft of the enemy in the conditions of electronic suppression.