The American cruiser Indianapolis was found after 72. According to
broker
US Naval Institute, during a search operation led by Paul Allen, the remains of a shipwreck, which became one of the last major defeats of the Americans during the Second World War, were revealed, reports
"Warspot"
On the night of 29 on 30 in July 1945, the American heavy cruiser Indianapolis sailed from Guam to the Philippines after successfully completing the secret mission of delivering enriched uranium and details of the Malysh atomic bomb, which was later dropped on Hiroshima. Shortly before midnight, the cruiser was discovered by a Japanese submarine I-58, and the crew of the submarine identified the ship as a battleship. "Indianapolis" did not have sonars or hydrophones and went without an escort destroyers, so I-58 without any problems released six torpedoes on it. In 00: 14 30 in July, the American cruiser was hit by two torpedoes that hit the nose, and after 12 minutes went to the bottom.
Cruiser Indianapolis
Despite the fact that the radio operators of "Indianapolis" managed to send a distress signal, the help of the sailors who survived the Japanese attack had to wait almost four days. Of the 1196, people aboard the July 30 cruiser, near 300, sank immediately with the ship. Most of the remaining sailors on the surface, without waiting for help, died. During the rescue operation, which lasted until 8 in August, only 321 people were rescued, and four of them died soon after.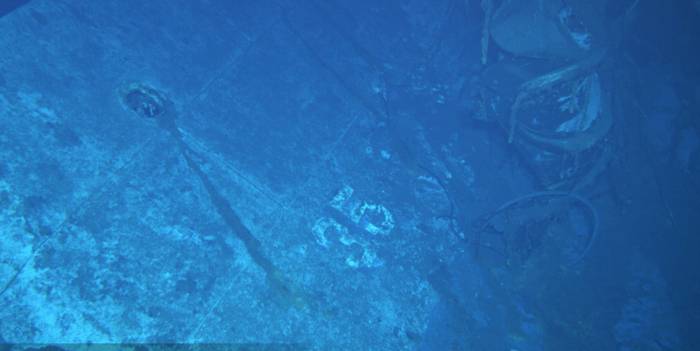 The remains of the ship at the bottom of the Philippine Sea
The search operation, organized in 2016 year by billionaire and philanthropist Paul Allen, one of the founders of Microsoft, over the weekend ended in success. The remains of the ship were found at a depth of about 5,3 km in the Philippine Sea. Special unmanned vehicles took several pictures that allowed Indianapolis to be identified.
The search team gave the coordinates of the find of the U.S. Navy, because the wreck is considered a military grave and remains the property of the U.S.
fleet
. However, the exact location of the detection will not be transmitted to the public. The team of Paul Allen continues to search for the wreckage of the cruiser. It is known that today 22 Indianapolis crew members are still alive, and today the military command plans to notify them, as well as family members of the dead sailors, about assigning status to the remains of a military grave ship.