At the moment, the US Navy is seriously inferior in range of anti-ship missiles to its main rivals - Russia and China. However, a new modification of the American rocket can literally smash the ships of the opponents of the United States "to pieces", writes
Business Insider
. Translation of material submitted
Intotv
On board American destroyers and cruisers, there are advanced missile defense systems, as well as long-range cruise missiles to destroy ground targets, but the Harpoon anti-ship missile, in service with 1977, is seriously inferior to more modern Chinese and Russian counterparts.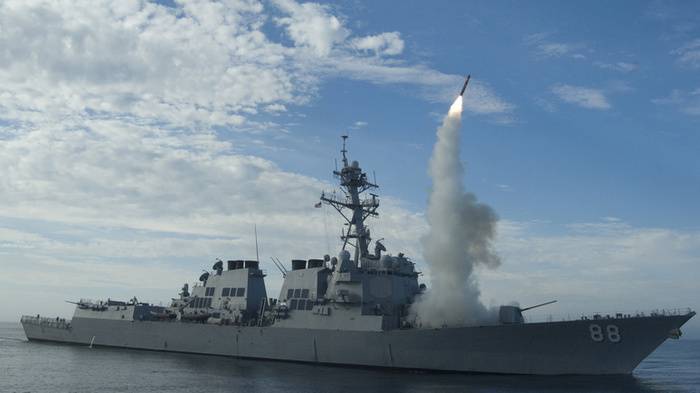 Chinese anti-ship missiles YJ-18 and YJ-12 have a range of 380 km, and at close range from the target YJ-18 picks up supersonic speed, and YJ-12 performs a spiral-like maneuver, deviating from the enemy anti-missile means. The Russian anti-ship version of the Caliber hits 300 km and also gains supersonic speed at a small distance from the target.
Given that the range of the American "Harpoons" is only 120 km, Chinese and Russian missiles can inflict huge damage on US carrier strike groups. Although the F / A-18 Hornet deck bomber is capable of retaliating against the enemy, a gap in the range of anti-ship missiles remains a serious threat to
fleet
USA, emphasizes the publication.
In this regard, the US Navy will sign a contract with Raytheon to develop an anti-ship modification of the Tomahawk missile.
At low cost, this modification can potentially change the whole balance of power. Such a rocket will be able to hit on 1600 kilometers,
- said Deputy Secretary of Defense Bob Work in 2015 year. -
Almost all our surface and submarine fleets will be able to use it. "
Overcoming the Russian and Chinese fleets by several times over a radius of defeat, US ships will be able to strike at the enemy with impunity. Moreover, the new rocket will allow the US Navy to operate in previously inaccessible areas due to the high probability of destruction. Near Russia it will be the Baltic and Black Seas, and near China it will be South China.
- concludes the newspaper.