No one tank was not damaged during Operation Enduring Rock. Tanks MERKAVA Mk. IV, equipped with TROPHY active defense complex, successfully intercepted anti-tank missiles and RPGs
The article discusses some of the decisions of the Israeli defense industry for the air and ground areas, as well as dual-use systems. It should be said that no opponent rests on his laurels, the threats are constantly evolving, the enemy is constantly honing his skills.
The Market for Solutions to Combat
drones
is expanding and will remain vibrant for the foreseeable future as the threat of terrorist organizations and lone wolves remains high. Israel takes these threats very seriously.
In April, 2016, the company Rafael Advanced Defense Systems introduced DRONE DOME - a system to combat enemy unmanned aerial vehicles (UAVs). The system protects important objects from threats by identifying, tracking and neutralizing the multi-rotor apparatus of the helicopter scheme, as well as mini- and macro-BLAHs of the aircraft scheme. According to the company Rafael, the DRONE DOME system is designed primarily to protect against the threats of terrorist organizations that use various types of copters to gather intelligence information or conduct air attacks. The system is also suitable for the protection of airports, where drones pose a potential danger to participants in congested airspace.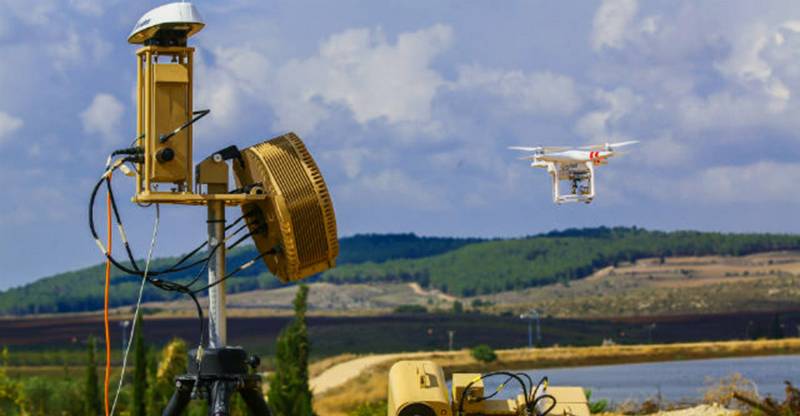 System detection and neutralization drone DRONE DOME company Rafael
The weatherproof DRONE DOME system of continuous operation provides 360 ° coverage, using optoelectronics and radar sensors to detect threats, compares and combines data and alerts the system operator about the detection of unregistered UAVs. The components of the system are manufactured by Israeli companies and, according to Rafael, all of these components have been tested in actual conditions and are used by the armed forces and security organizations of many countries.
Just a month later, Orad Control Systems announced the introduction of its neutralization system to the market.
drones
MC-HORIZON. It is designed for the military and security services that protect airports, strategic sites and crowded places, including stadiums and sports arenas.
Orad claims that its systems provide protection against mini-UAVs by identifying and tracking their flight paths. UAVs identified by the system as hostile can be neutralized by jamming their radio and GPS signals.
In August, the DRONE GUARD drones system of Israeli Aerospace Industries (IAI), which seems to be ready for use, took part in several demonstrations in order to show its capabilities to potential customers. The system is able to detect a small-sized UAV at a distance of 2016 km using its radar, then DRONE GUARD identifies the UAV with its optical sensors and activates the flight disruption mode. After that, the drone either remains hanging in one place until the fuel runs out or the batteries do not sit down, or is sent back to the starting point.
To solve this new challenge, the Elta Systems division of IAI has developed a special system that combines 3D (three-coordinate) radar with optical-electronic sensors for detection and identification, as well as a special jamming system for disrupting the flight.
To detect low-flying, low-flying, low-speed targets, Elta Systems has adapted its three-coordinate small (9 km), medium (15 km) and long-range (about 21 km) radars with special UAV detection and tracking algorithms, and also integrated optoelectronics with them for visual identification.
Finally, in February of this year, Israel Military Industries (IMI) introduced its RED-SKY tactical air defense system, recently adapted to combat the growing threat of UAVs. The system provides general functions of combatting UAVs, including detection, identification, target acquisition and automatic tracking, flight disturbance and its neutralization; One task - not to allow the drone to perform its task. The system is integrated with an advanced radar for detecting UAVs over a distance of several kilometers and is equipped with a modern thermal imaging camera for studying and identifying objects. After capture, the system accompanies the target and allows the operator to interrupt its flight or neutralize at a safe distance from the protected object. For this, the connection between the UAV and its operator in several radio bands, as well as its navigation functions, is violated, after which the enemy drone is no longer able to complete its mission.
The RED-SKY system can be integrated into protection systems for vulnerable or highly significant facilities in an urban or other environment. It can also be mounted on vehicles to protect maneuvering forces from aircraft and UAVs. In recent months, the system has successfully passed a series of day and night tests.
Improving poor visibility and safety
In May 2016, Elbit Systems conducted a series of successful demonstration flights using its BrightNite system. This solution allows multipurpose helicopters to successfully perform tasks in poor visibility conditions. The purpose of the flights was to demonstrate the capabilities of the system in a moonless night and complete darkness, in which flights are rarely performed. Dozens of pilots from the air forces of many countries took part in demonstration flights in Israel. Installed on board an Airbus Twin-Star helicopter, the BrightNite system provided pilots with piloting capabilities similar or even exceeding the standards set for the most advanced combat helicopters. A lightweight, compact and inexpensive FlightNational BrightNite sensor is a multispectral solution with a seamless fusion of a panoramic image that is transmitted directly to both pilot eyes. It also displays symbolic flight information, landscape outlines, and other programmable characters.
The BrightNite system allows multi-purpose helicopters to successfully perform tasks in low visibility conditions
According to a representative from the IAI / MALAM division, "the growing congestion of airspace and the lack of integration between military and civil airspace require new independent solutions to prevent collisions. Such systems will enhance flight safety without reducing operational freedom. "
As a result, in November last year, IAI introduced a system for preventing collisions between civilian and military aircraft.
According to IAI, the collision warning system is an "innovative, life-saving solution designed to prevent combat pilots in situations where there is a threat of a collision with a commercial or passenger vessel." The system monitors non-military aircraft through two integrated independent systems: the "friend-to-others" identification system and the broadcast-dependent automatic dependent surveillance system (ADS-B).
Civilian pilots do not receive collision avoidance warnings. Military pilots receive three warnings: one -
by voice, one by means of graphic indicators on the tablet and one by the symbols displayed on the cab displays. Whether civilian pilots will receive such a warning system to avoid collisions is still unknown.
On the ground
In August, the Israeli army and the Ministry of Defense told about the development of the EITAN wheeled armored personnel carrier, which will take the place of the outdated BNR M2016, which did not cope with the protection of soldiers during Operation Enduring Rock in July of 113. The new platform is being tested in various conditions, and the decision on its purchase will not be made until the end of these tests. The EITAN armored vehicle has the 2014x8 configuration, tons of 8, develops speed of 34 km / h and accommodates 90 people (driver, commander, gunner and nine people of the landing). The new car is similar to the tracked BAM NAMER, also designed for the Ministry of Defense.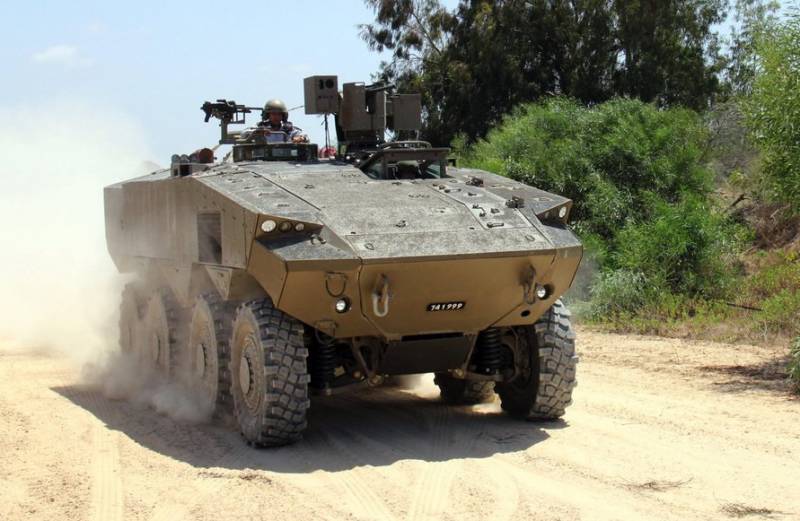 The EITAN wheeled armored personnel carrier will join the NAMER tracked armored personnel carrier in order to finally replace the outdated and vulnerable МNNXX platforms
EITAN will be equipped with a complex of active protection from Rafael TROPHY and blocks of dynamic protection, which will increase the level of survivability on the modern battlefield. According to the developer, the EITAN armored vehicle will have hardened wheels, which will make it possible to continue driving even after a mine is detonated or a bullet hits.
General Baruch Matslakh, commander of the armored command, noted that "the relatively low (predictable) price of the EITAN is determined by the fact that it is based on commercial systems that are significantly cheaper compared to other systems used on armored personnel carriers in Israel and other countries."
He estimated that mass production could begin in August 2018, with an annual production volume of several hundred platforms.
The Israeli startup SafeShoot is awaiting the completion of the development of a system that is designed to significantly reduce, if not completely exclude, cases of friendly fire, but the company does not provide additional information on this project.
The company's engineers are planning to give the soldier in the field several opportunities to receive a warning that he intends to open fire on a target that he should not aim at. In the first version, such a warning is a flashing red indicator visible to the soldier, warning him of an error in target identification. In the second variant, the warning comes in the form of vibration: either the soldier's rifle vibrates like a mobile phone, or a ring on one of the soldier's fingers, indicating a possible error. Another possibility is a recorded voice alert. Some of the company's products will be adapted for those combat pilots who tend to inadvertently bomb their forces, rather than enemy tanks. According to the company, the Israeli military is closely following developments in this area and is actively participating in them.
At the end of last year, the DOGO light armed robot was introduced. This robot, specially designed for special forces, police special forces and infantry tasks, owes its appearance to the wishes and requirements of the Ministry of Defense and the Anti-Terrorism Directorate. It is designed to work in urban environments, as well as underground, it can move through difficult terrain, climb and descend the stairs, the duration of work is about 4 hours on a fully charged battery. The DOGO robot has an 9-mm Glock 26 pistol with an 14 cartridge, and is fired using a remote-controlled joystick, which allows the operator to aim and shoot from a safe position. This silent robot is able to aim at a standing target or even hiding, for example, under a bed.
Lotar elite special squad undergoing hostage rescue training
Border protection
In November, 2016, the company Elbit Systems introduced a system of continuous monitoring of large areas of GroundEye, designed to protect the borders from the illegal invasion of refugees or the infiltration of terrorists. The GroundEye system displays a panoramic image of the area, and also identifies and tracks suspicious traffic. Collecting data from various sensors, the system is able to localize, for example, a suspicious car moving in the direction of the border. To determine the exact location of the offender, FOXTRACK radar is deployed, which determines the coordinates of the vehicle near the border. If it enters a vegetated area, a special target detection radar through the foliage of FPR 10 and additional sensors help the border guards to track it. The servicemen are communicating through an improved WideBridge mobile communication system with each other, then a command is issued to deploy forces and install physical barriers.
In February 2017 of the year, it was reported that hundreds of mobile sirens are now available for rapid deployment in every region of Israel. They are designed to warn in real time about the shelling by terrorists of heavy mortars of Israeli territory from the Gaza Strip. Motorola manufactures these sirens, designed by the intelligence and information corps of the Israeli army.
Sirens are resistant to atmospheric conditions, able to work for several hours in the heat and hurricanes, can issue warnings even in a dense cloud of dust created, for example, by a MERKAVA tank. They can be transported on all available platforms, such as armored vehicles, jeeps and tanks, they can be delivered to every corner of Israel, in which the army wants to warn its units about a possible attack.
After the air force radar detects a launch in a specific area, the sirens will give a warning, giving everyone 25 seconds to take cover. This whole siren venture is connected with the fact that the ideal solution to stop a mortar threat from which Israel has to live is to intercept mortar shells in the same way as the IRON DOME tactical antimissile defense system (Iron Dome) does not even appear on the horizon. .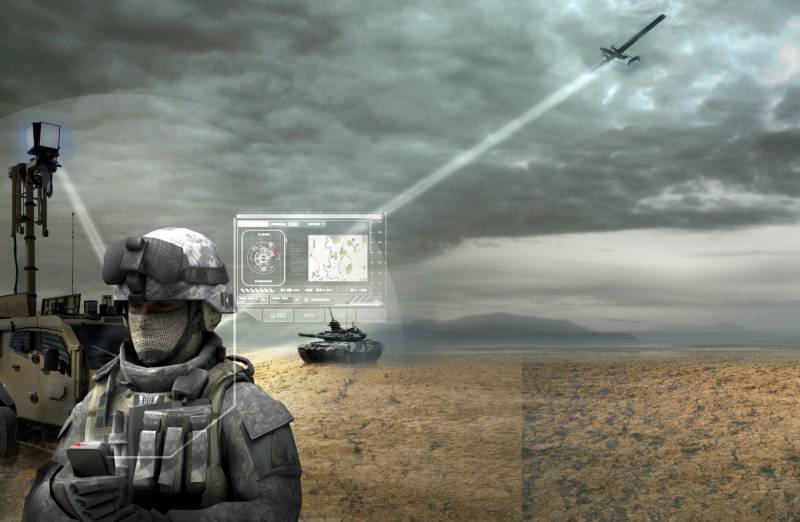 Israel Aerospace Industries (IAI) is a globally recognized developer of military and civil aerospace and radar technologies.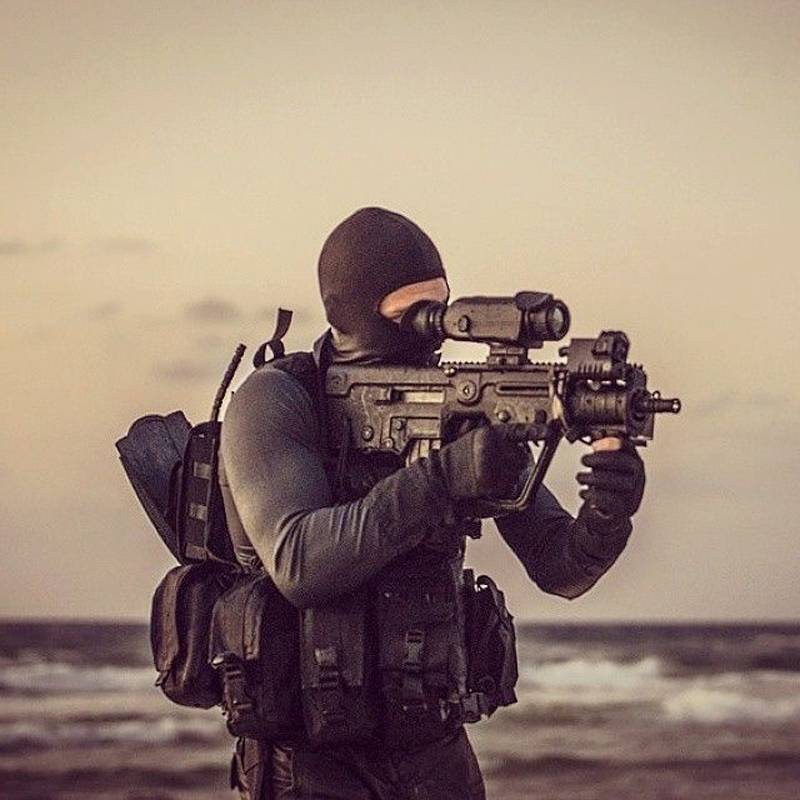 Israel is strong in small arms weapons. IWIX95 assault rifle with NOA NYX scope
Civil projects
Last year, IAI introduced the RES-Q-CELL cellular search and rescue system for detecting survivors in disaster areas. The system with high accuracy determines the coordinates and position of the cellular devices of the survivors, which can significantly reduce the time of arrival of assistance.
The system supports global cellular networks (GSM, UMTS, LTE) and provides passive and active capabilities by activating cell phones in disaster zones, quickly identifying and accurately locating all mobile devices. The system can distinguish the phones of those who are in a difficult situation from the rest. It identifies cell phones within a predetermined zone of destruction, identifies them, and provides the exact three-dimensional location of survivors.
The system can be configured for a specific zone or country requirements. It is designed to work in a variety of scenarios, including natural disasters, such as earthquakes, hurricanes, floods and tsunamis, and the security of major events, fires and terrorist attacks. It can be installed on various platforms, including civilian cars, military vehicles, aerostats and helicopters. The system is controlled from a laptop computer and maintains performance even in the event of disruption of cellular networks.
According to a representative of Elta Systems, "the system has been tested in real conditions and we believe that the combination of modern technologies that we use in this system will allow rescuers to begin to act immediately."
Another Israeli system BIRD EYE 650D suitable for both military and civilian use. It provides mapping surveys, monitoring of oil pipelines, gas pipelines and power lines, monitoring the spread of pollution on land and sea, as well as monitoring disaster areas.
Israel is indeed a country that lives "like a volcano," with several hostile neighbors and terrorist organizations in its wake. The constant threat requires innovative and creative solutions that go to the civilian market. What Israel offers can also be used in many countries of the world that are waging a similar fight against terrorism and rebel forces. The above examples of solutions, in particular, to prevent mid-air collisions and significantly reduce the risk of friendly fire, should be closely watched by the civilian and military authorities of many countries. Both of these solutions save lives, help create a safer environment and add confidence to soldiers and military pilots.
On the materials of the sites:
www.nationaldefensemagazine.org
www.rafael.co.il
www.iai.co.il
www.imisystems.com
www.elbitsystems.com
www.idfblog.com
pinterest.com
armyman.info