The deputy commander of the US Navy, Admiral Bill Moran, reports that the Navy had to take action against the commanding staff of the destroyer FitzGerald, which had encountered a civilian vessel. Recall that the incident occurred 17 June. Then the US destroyer USS Fitzgerald in 20 km from the Japanese coast collided with the Philippine ship ACX Crystal. As a result of the incident, seven American sailors died, three more were injured.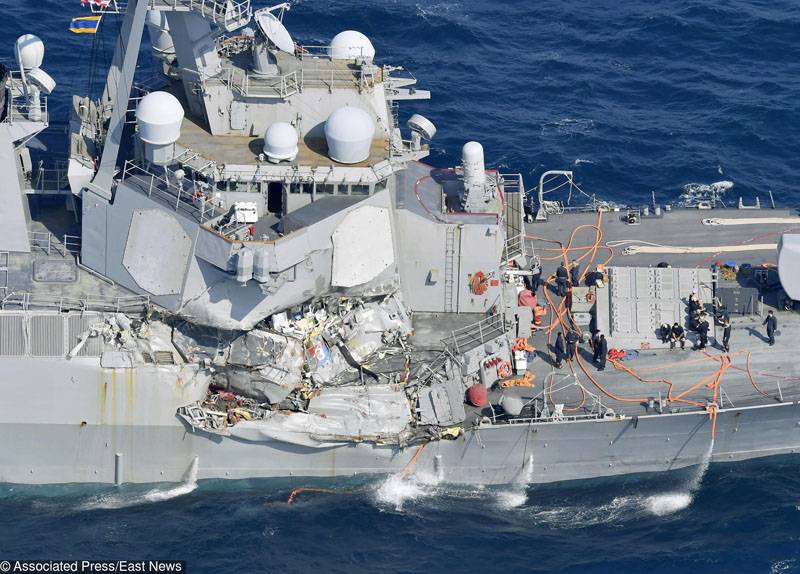 According to Bill Moran, the US Navy command decided to dismiss the commander of the USS Fitzgerald from military service, a commodore (unofficial version
naval
ranks in the US Navy, which actually corresponds to the equivalent of a captain of the first rank in the Russian fleet; Often in the United States, they also call that person with the rank of Rear Admiral Bryce Benson. Two senior officers, the deputy commander of the ship, were also dismissed from the service.
It is also reported that another nine seafarers, including watchmen, who did not give a signal about a dangerous rapprochement with a civilian vessel, would be subject to disciplinary action.
According to Admiral Moran, "as a result of further investigation, other decisions of a disciplinary nature can be taken.
The official results of the investigation into the causes of the collision of the American warship with the Philippine ship are not announced at this time.