It is reported that the submarine Severodvinsk fired the Caliber cruise missile in the Barents Sea. In the press service of the North
fleet
note that missiles hit targets at the Chizh training ground in the Arkhangelsk region. From the press service of the fleet:
Today, the Severodvinsk multipurpose nuclear submarine of the Northern Fleet successfully fired a Kalibr sea-launched cruise missile. The crew performed a combat exercise from a submerged position in one of the training grounds of the Northern Fleet's combat training in the Barents Sea. The rocket was launched at the Chizha test site in the Arkhangelsk region.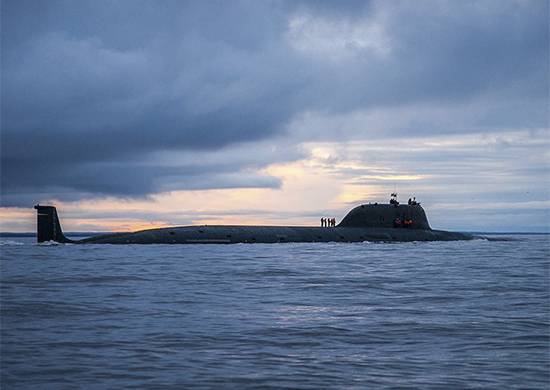 The report says that the distance to the target was about 600 km. As a result, the target was hit with a given accuracy and with confirmation of all the flight and technical parameters of the sea-based cruise missile "Caliber".
Of
messages
:
During the execution of the shooting crew of the submarine "Severodvinsk" showed high professionalism and naval training.
This is not the first launch of the Caliber from the Severodvinsk nuclear submarine. Successful shooting at ground targets at the test site was carried out last year.
For reference: K-560 "Severodvinsk" is a multipurpose nuclear submarine of the 4 generation. Is the lead submarine project 885 "Ash". It is in service with the 11 division of the Northern Fleet submarines from 17 June 2014. The crew of the submarine - 93 man, including 32 officers.