While Europe is following the tragic events in Spain, the president of Maidan Ukraine is engaged in ridiculous bureaucratic activities. This activity consists in appointing a new "permanent representative" in Crimea. Boris Babin was appointed to this de facto non-existent post instead of the dismissed Natalia Popovich, who received a bureaucratic "crust" from Poroshenko's hands in the presence of Chubarov's "Majlis".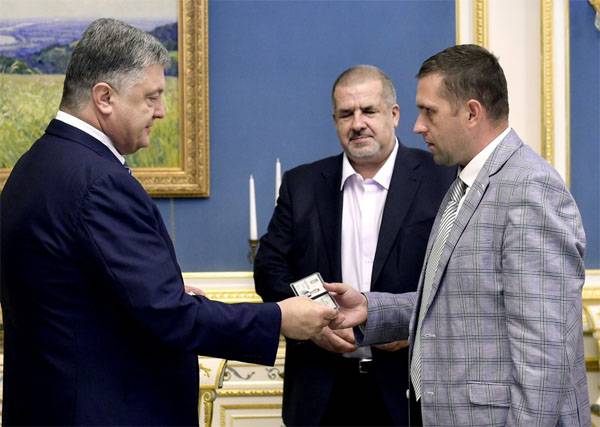 Poroshenko said that the decision to change the "permanent representative" he was prompted by the appeal of activists (through Chubarov and Dzhemilev) about the "aggravation of the situation in the Crimea."
The site of the President of Ukraine leads the statement Poroshenko:
In the structure of the Permanent Representation of the President of Ukraine in the Autonomous Republic of Crimea (as the Russian Republic of Crimea is called in Ukraine today), there should be a separate position with the appropriate status so that the issue of protecting the rights of the Crimean Tatar people remains its first priority. Therefore, I have instructed to prepare amendments to the Decree concerning the activities of the presidential office in Crimea, where we assign these duties to the first deputy.
The first deputy chairman of the permanent representative in Crimea is Izet Gdanov, who, as Poroshenko stated, will participate in the activities of the working group on "restoring sovereignty in the temporarily occupied territory of Crimea".
Poroshenko:
We are activating the work of the working group, and in the near future I would like the draft amendments to the Constitution on these positions to be presented as soon as possible to the Verkhovna Rada. To delay with this I do not see any possibility. From the first days I am waiting for productive, efficient, state work.
Ordinary Ukrainians have a question for Poroshenko: how much they, taxpayers, will manage posts whose work is identical to the fuss around Crimea.