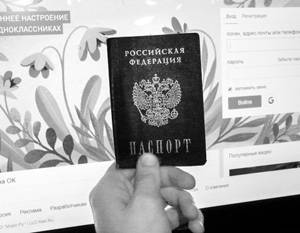 "For a law-abiding user, this will not only change nothing, the law-abiding user will only benefit from this," said Denis Davydov, director of the Internet Security League, at VZGLYAD, commenting on new measures to de-anonymize users on social networks. In his opinion, the measures will help prevent new terrorist attacks in Russia.
At the end of last week, the Ministry of Communications and Mass Media published for discussion a draft version of its order on regulating equipment requirements, which are used in information systems by information dissemination organizers (ARIs) on the Internet (messengers, social networks, etc., the ARI register is maintained by Roskomnadzor). While the text of the document is only put up for public discussion (until September 6) on the federal portal of draft regulations, anyone can express their wishes.
The order has already caused a wide public response - it lists what data on users of the ORI will be required to transmit to special services, in particular the FSB, upon request. Such information about users includes a nickname (pseudonym), passport data, residential address, e-mail, IP address, payment information, message text, sent and received files, foreign language proficiency information, as well as other users of social networks indicated as relatives.
About what goals are pursued by new measures and why Russians should not be worried about their introduction, as well as similar practices in other countries, Denis Davydov, executive director of the Safe Internet League, told the newspaper VIEW.
VIEW: Denis Nikolaevich, can the proposed set of measures help prevent new terrorist attacks in Russia?
Denis Davydov: Yes, that's right. This is the real, true purpose of these innovations. Finally, our law enforcement agencies and special services will receive normal, effective tools in order to timely respond to terrorist threats. This is exactly what was missing. If such a system is created, then it is clear that the main sphere of its application is antiterror.
VIEW: Does it facilitate the conduct of operational-search activities?
D. D: Yes, significantly. Previously, dealers did their secret dark deeds - robbed, cheated - on the Internet, and in order to find them, it was necessary to perform feats for police officers. Now it will be much easier to do this.
VIEW: In order to analyze such a large amount of information, you will probably need a large number of specialists? But people are always not enough, and besides, it can be very expensive.
D. D.: The fact is that, thanks to modern technologies for analyzing large data arrays, most of the algorithms and, in the future, artificial intelligence programs will perform. Intervention of living people, specialists will be required only in cases when the information is really valuable, important - and necessary for fulfilling the duties entrusted to law enforcement officers.
VIEW: Thus, the system will, in fact, sharpened on the analysis of all this information on technology Big data?
D. D.: In general, any such systems that store hundreds of millions of records, metadata and other information, of course, are primarily aimed at storing and conveniently searching for information. That is, such systems may offer some conclusions that need additional verification by law enforcement and intelligence agencies. When carrying out operational-search activities or in the investigation of some crimes, these data will be very useful.
VIEW: A year ago, there were reports that the authorities in Russia are already using Big Data technologies ("big data").
D. D: It's hard to say how straightforward this is Big Data technology. Now, as far as I know, the state is only discussing the architecture and those authorized bodies and organizations that will be engaged in the collection and processing of such data. However, it can be said that both the state and private business are partially engaged in this.
If we look at operators, for example, cellular communications, or at credit and banking institutions, for example, at Sberbank, then what are the "big data" operators who process them and draw any conclusions based on this analysis?
VIEW: Is it true that for this system all personal information will be a kind of "white noise", and certain constructions and phrases that can be associated with plans of terrorist attacks will be "highlighted"?
D. D: The fact is that the information that is collected will not affect the right of citizens to privacy and correspondence. This will be primarily data that allow you to identify a particular user. In general, this is the system that will collect and store this data.
Such information will be processed only upon request, only by a court decision. So law enforcement and intelligence agencies will not just have access, for example, to letters that users send to each other.
The state speaks about the prohibition of anonymity. This means that for the state, for law enforcement agencies and special services there should be no anonymous users. Nevertheless, each of these users has the right to privacy, to the secret of communication. Therefore, the state in every way demonstrates and declares that it will protect this right. Meanwhile, various transnational Internet giants violate this right.
Many people say: "Here, everything is lost, now the FSB will know the username of the user and the IP address." So what? This will help us all to avoid problems with terrorists. At the same time, for some reason, few people say that the same companies Google, Amazon, Facebook not only store personal messages of users, but also use them at their discretion. That is, they read private messages. Google directly says, they say, "yes, we read your correspondence."
It turns out that opposition activists are outraged by the endowment of the FSB with the authority to request personal data of users, although this ensures our security, and for some reason, it does not disturb the fact that the American Internet company reads the correspondence of all users of its services. This is a very strange approach.
LOOK: For an ordinary law-abiding user, this will not change anything at all?
D. DG: For a law-abiding user, this will not only change nothing, the law-abiding user will only benefit from this. I can confidently cite the example of the PRC. Many people start to laugh and giggle when it comes to China, they say some terrible
stories
about censorship, as everything is bad there. In fact, in China, after the ban on anonymity, the Internet economy began to grow faster, the number of frauds decreased on the Web. And ordinary citizens benefit from this, especially in terms of security.
I am sure that the introduction of such a system will allow us to win not only in terms of security and peace of mind against the terrorist threat, but also thanks to new tools and opportunities that law enforcement agencies will receive, will increase the detection of many crimes that are committed using the Internet.
Here, by the way, it seems to me that it is logical if not only the FSB, but also the Ministry of Internal Affairs will get access to these tools. And, for example, those cases on pedophiles on the Web that seduce children, get off the ground. Just because now it is thanks to the Internet that they are encrypted, exchanged at some closed, secret sites with tips on how to seduce children.
LOOK: You have already partially addressed this. Many bloggers and other critics during the discussion of this project forget that our life, our security often depends on those people who guard our peace of mind: from the special services, from internal organs. Why?
D. D: This is true. Our security depends entirely on the efficiency and effectiveness of the system of operational search activities, as well as on the interaction of society with law enforcement agencies and special services. Because it's not the task of the security authorities alone to solve these issues. Alone, without reliance on society, it is very difficult to do. It turns out very strange story. A lot is being done to ensure that the authorities have modern tools to ensure our security, and here there are some people who are unhappy with everyone and say weird things about not doing this. Although in general the whole world is on the path of tightening control.
In general, activists who advocate anonymity on the Web somehow don't understand one thing. It lies in the fact that the anonymity of the web is gone forever. It is no more - and never will be.
VIEW: Was it ever there at all?
D. D: It was very conditional. And law enforcement agencies with high probability could establish one or another person on the web, even if it took some amount of time. Now it will need to spend less, and the vacated time can be used to search for criminals, terrorists and extremists.
VIEW: You said that the whole world is on the path of limiting anonymity on the Internet. Last year, the British parliament approved a law that obliges telecom operators to keep data on all sites visited by their users and the services used by subscribers, and also determines under what circumstances the authorities have the right to hack users' computers. Why do our opposition bloggers ignore such a fact?
D. D.: Some bloggers have an idea that the world is different, and in Russia, the "bloody regime" strangles the rights and freedoms of man and citizen. This is such an artificial world in which they live. They created it for themselves. And they don't even bother to keep track of
the news
from other countries. And news from other countries is about the same order. The state in all these countries provides control over the Network and data transmission.
In Germany, for example, the question of what can be written in social networks and what cannot be is already regulated at the legislative level. And that the forbidden information in social networks should be deleted by the Internet sites themselves. Of course, if our various bloggers, both opposition and non-opposition, would just be more interested in this issue, they would understand that this is such a global trend. He is not connected with any choking of freedoms, but is connected with banal security.
We live in the 21st century, and modern terrorists are not just some bearded men riding a donkey, modern terrorists are competent people with programming and cryptography skills. In addition, they attract programmers to lead a cyberwar against the "infidels" in their understanding. These people have sufficient skills to arrange a blackout in any of the European cities - to turn off power stations, water towers, and transport. Therefore, of course, all over the world, states are trying to somehow counter this. One solution to this problem is to collect data and store them briefly.
I would like here to draw attention to the fact that we are talking about a brief storage of this data, while Google, conditionally, or Facebook always store data, forever! They do not wash them, they remain forever. That is why they are building giant "data centers" in the USA.
VIEW: In the Netherlands, too, since the end of last year, there has been a public discussion of the draft law, which involves gathering information about the messages and calls of users with the help of local telecom operators and its subsequent storage. Authorities plan to monitor Dutch correspondence and conversations and figure out potential terrorists. What do you think, will this law be adopted there as a result?
D. D: Of course, he will be accepted. The fact is that the EU countries have become hostages of the flow of migrants, the flow of refugees. A great many of those who appear to be refugees are active participants in the bandit underground and terrorist cells.
This, in turn, significantly increases terrorist threats. Traditional methods of operational-search activity to cope with such a shaft of information is simply unrealistic. Therefore, it is a question of our close enough future, when both European and not only European countries will, for the most part, adopt such laws. I am confident that these laws will be tougher than in Russia.
VIEW: That is, after some time, the whole world will move to a more thorough control of the Internet space - in order to protect against terror and in general from crime?
D. D.: Yes, and the following questions that will arise before states, including within the framework of bilateral and multilateral relations, are precisely the regulation of interaction in the field of data transfer. Information about our citizens is inviolable and protected by the state. Therefore, states will have to regulate at the level of a convention an international rule for the use of this data, their cross-border transmission.
If our state guarantees the right to privacy of data, it will have to guarantee it even when it is processed by other participants, including from abroad. International legislation in this area - European, Russian, American - will gradually be harmonized.