Naval saboteurs of the Navy
fleet
will receive the latest shock-reconnaissance and sabotage submarines P-650 with a displacement of only 720 tons, report
News
.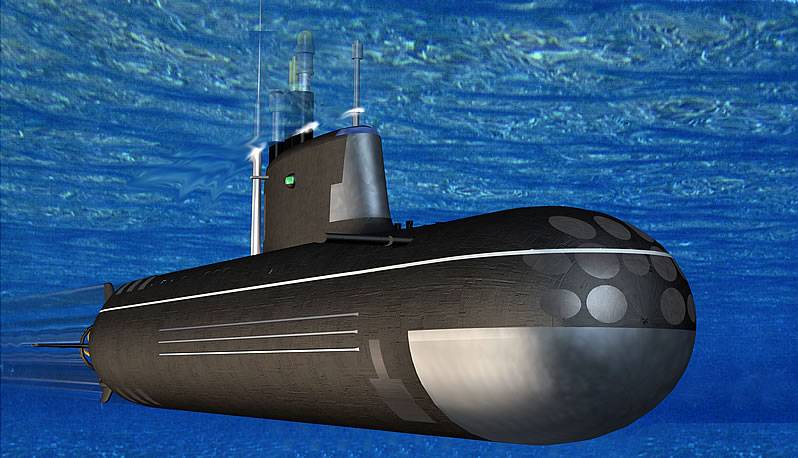 The submarine was developed by the Malachit Central Design Bureau and received the unofficial name Superpiraña. According to the General Staff of the Navy, the P-650 is regarded as a specialized carrier and support boat for special operations units. The decision on them will be made after specifying the final appearance.
P-650 - multipurpose boat. It provides for the installation of torpedo tubes for the exit of sea saboteurs, as well as a special compartment with a lock chamber for returning them on board. The ship has a modular design that allows you to additionally place on it various types of cruise missiles, torpedoes, bottom mines. Therefore, the submarine can not only perform delicate missions, but also work as a patrol ship, destroy single ships or targets on the coast with rockets and torpedoes, conduct secret radio reconnaissance, target designation to other ships in the group,
told the lead designer TsKB Victor Karavaev.
The submarine has a length of 55 m and a width of 6,4 m, the maximum depth of the dive is 300 m, the range is 2 thousand nautical miles, the crew is 9 people. Can take aboard up to 6-ti combat swimmers. Armament: four torpedoes caliber 533 mm, eight - caliber 400 mm. In addition to them, 12 bottom mines are placed in special bomb-holes located between the strong and light hull of the boat.
The boat originates from the ultra-small submarines of the Soviet fleet project 865 "Piranha".
According to military expert Vladimir Shcherbakov, "the interest in ultra-small submarines is primarily caused by the appearance of strike and sabotage ships in the US Navy."
Unlike the American, the Russian concept involves the creation of ultra-low and low-noise ships of the coastal zone or inland seas. They will be in great demand in the Baltic, Black, South China or Caspian seas, where there are no great depths and where the atomic boat will not even noticeably physically enter,
said the expert.