The United States responded to statements by Iran's leadership about a possible resumption of work under the nuclear program. Recall that as a result of years of negotiations with the participation of Russia in 2015, it seemed possible to finally agree on curtailing Iran's nuclear program, after which the West began lifting anti-Iran sanctions. Now, official Tehran, responding to Trump's statements about the need for a return of sanctions measures, warns that after the introduction of sanctions measures Iran will return to work on uranium enrichment.
US Permanent Representative to the UN Nikki Haley said that "Iran is trying to take the whole world hostage." Commenting on statements by the White House about its readiness to impose anti-Iran sanctions, Hayley announced that the imposition of sanctions is "not related to the Iranian nuclear program." Like, if we introduce sanctions, then you should not return to the nuclear program, since sanctions are not connected with it. Typical American logic.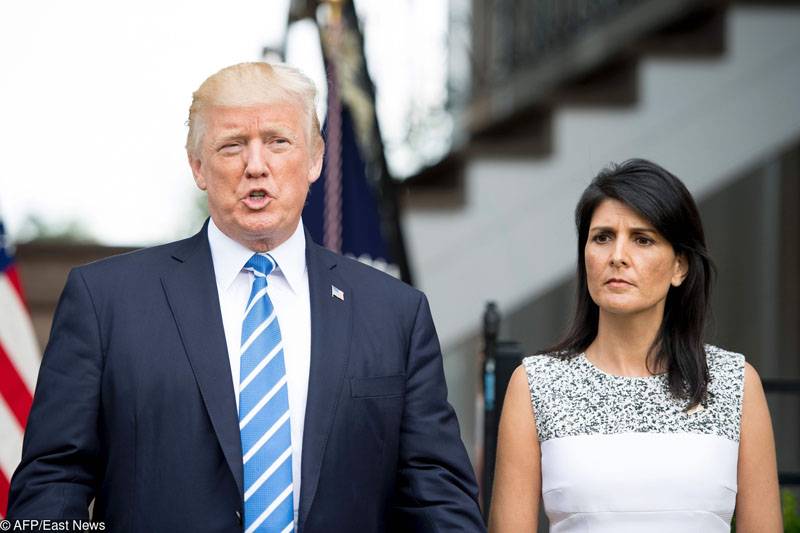 This logic is from the same series as the refusal to cooperate on the DPRK nuclear program. Recall that at one time the United States reached an agreement with the DPRK that Pyongyang would curtail its program, and in return, Washington would take all measures to provide North Korea with electricity and will carry out joint monitoring. After some time, the United States themselves violated their promises, after which Pyongyang resumed its nuclear missile program, criticized by the United States.
Nikki Haley states that the United States imposed sanctions against Iran "for supporting terrorism." There is always a reason ... And Ms. Hayley does not specify why, in this case, the sanctions are not imposed on Saudi Arabia, because the Congress recognized that Saudi Arabia was engaged in supporting terrorists and was behind the September 11 attack.