Detachment of ships and supply vessels of the North
fleet
(SF), led by the large anti-submarine ship Severomorsk, performing a long voyage to the Eastern Arctic, arrived today in the northernmost port of mainland Russia - Dikson, reports
Interfax-AVN
message of the press service of the Federation Council.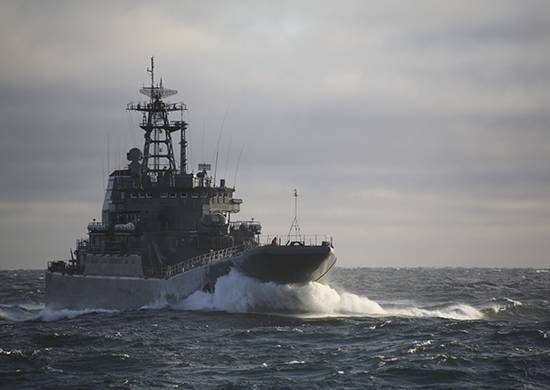 Ships and ships anchored in the port roads. In the near future, the crews of the ships will proceed to pass along the Yenisei River to the port of Dudinka. During the transition, the squad has already passed more than 1400 nautical miles,
says release.
Earlier (after the detachment entered the Kara Sea), "the crews conducted a joint training session on the maneuvering of ships and ships during ice wiring — ships and support ships lined up along the wake with all the participants in the cruise set up in accordance with their seafaring capabilities."
Also with watch officers, navigators and radiometrists classes were conducted on the conditions of navigation in the wake of the Yenisei River.
"The sixth Arctic campaign of the surface forces of the Northern Fleet began on August 10 with the release of the main base of the Northern Fleet city of Severomorsk. The detachment consists of the large anti-submarine ship Severomorsk, the large landing ships Kondopoga, Alexander Otrakovsky and George the Victorious, as well as the support vessels — the tanker Sergey Osipov, the rescue tug Pamir and the sector sector KIL-164 "- reminded the press service.
The first large-scale voyage of the SF ships to the eastern part of the Arctic took place in 2012.