According to the news agency "
Interfax-AVN
", The head of the Russian military department, Army General Sergei Shoigu, during an interview with the Russia 24 channel reported on Damascus's significant successes in the fight against jihadists, including thanks to the release of forces that had previously fought with the opposition.
In the last two months, the territories controlled by Damascus have increased 2,5 times. At the time of the appearance of our Aerospace Forces (VKS), our specialists, by the order of our President — let's call them so in a word, the two wars were actually parallel. One war with terrorists, the second civil war, the war of the opposition with the government.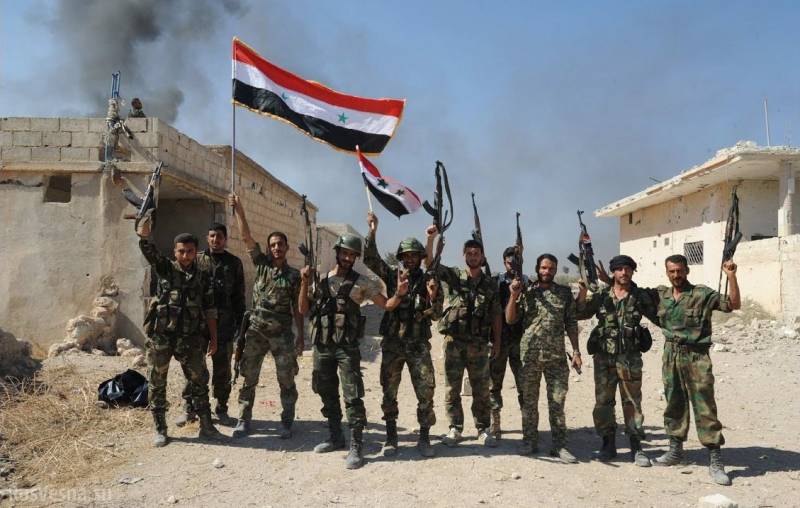 Separation of terrorists from the opposition became possible when creating de-escalation zones.
When we said that this is a de-escalation zone, there is a moderate and not very moderate opposition, but an opposition. There are no gangsters. And if there are gangsters, then the opposition that is inside this de-escalation zone should fight them. Along the perimeter is our military police. She is already in three zones of de-escalation. Left fourth. And this is the separation. This separation has allowed us to allocate very serious forces in order to really fight with terrorists. And from here, naturally, success has gone.
According to him, Deir-ez-Zor is currently one of the key points.
I would say first of all Deir ez-Zor. There has been resistance for more than one year. They courageously resist. There regularly - two, three, sometimes four times a week, food, medicine, ammunition are parachuted. This is the main point on the Euphrates, which will largely - if not in everything - speak of the end of the fight against ISIS.