The American president announced that today he will discuss the situation around the Korean problem with the chairman of the PRC. At the same time, Trump, with his characteristic artistry, stated that he was considering the option of "much more powerful sanctions pressure against North Korea" than the one that currently exists. Being in his own golf club in New Jersey, Trump told reporters that "North Korea has not yet experienced such sanctions."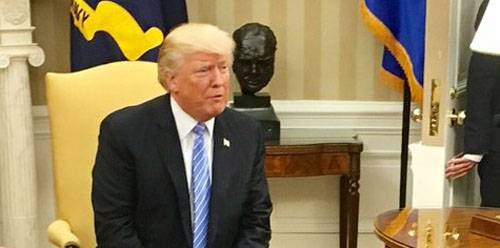 Apparently, Trump is the next American president, who is not going to understand one simple thing: the more the sanctions put pressure on a particular country, the more intense this relationship will lead to. Although, it can be assumed that the intensity of relations on the Korean Peninsula plays into the hands of Washington. After all, for the United States to warm up the hotbed of tension at the same time near the borders of China and Russia is quite a suitable option. At the same time, the US authorities will frighten their own nation with the North Korean threat, so that the nation will support any actions against Pyongyang.
By the way, about "any" actions.
While in New Jersey, Trump said that "despite the fact that a lot of good things can happen, it is possible that we will resort to a bad solution to the problem."
Journalists decided to clarify:
Mr. President, are you talking about the possibility of war?
Trump:
I think you yourself know the answer to this question.