According to the press service of the PJSC Shipbuilding Plant Severnaya Verf specifically for the Military Observation, the logistics ship Elbrus of the 23120 project departed from the Shipyard Severnaya Verf (part of USC JSC) to the northern latitudes for the final stage of testing. In preparation for the transition, the shipbuilders performed the bulk of the audit work.
During the transition, the crew and shipbuilders will check the seaworthiness of the vessel, test the Main Power Plant, multi-beam echo sounder, and cathodic protection system. Upon arrival at the destination, Elbrus will test the main ship systems and equipment for three weeks, practice interaction with
aviation
.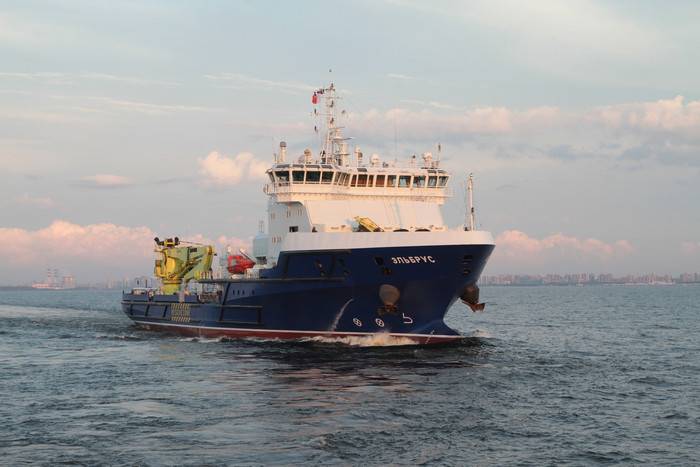 "Elbrus" - the lead logistic support vessel for the 23120 project. The construction of another ship of this project, the Vsevolod Bobrov, is continuing at the Northern shipyard.
Among the innovations foreseen by the project are a dynamic positioning system that allows to keep the vessel at a given point in all weather conditions, two electrohydraulic cranes with a load capacity of 50 tons, towing winches with a pull force of 120 and 25 tons, a cargo deck of more than 700 square. m. and others. The vessel is multifunctional: it can carry out loading, transportation and transfer of cargo; at the expense of a powerful power plant to tow ships, right up to the aircraft carrier; to participate in rescue operations and provide medical assistance to those in distress (the vessel is equipped with a pressure chamber for decompression); carry out mapping of the bottom topography and search for sunken objects. The hull of the vessel with the ice class ARC4 will allow it to walk in arctic latitudes, overcoming the thickness of the ice in 0,6 m.
During the construction of "Elbrus" was successfully carried out import substitution of equipment. For example, instead of the imported power cable, a domestic analog was used, the foreign system of finely sprayed water was replaced with the Russian one, instead of a hydro-acoustic antenna of European production, made in Russia was used.
Constructive solutions incorporated in the 23120 project allow its modernization over a wide range to meet the specific requirements of customers.
After the successful completion of the tests, the vessel will become part of the Russian Navy.
Key features of the 23120 project:
• length - 95 m;
• width - 22 m;
• draft - 9 m;
• speed - 18 nodes
• displacement - 9 500 t;
• cruising range - 5 000 nautical miles;
• autonomy - about 60 days;
• crew - 27 people.