When the US president was asked to comment on the retaliatory measures of Russia for the expulsion of American diplomats from the country, Trump literally stated the following: "I am very pleased." According to Trump, he is grateful to Vladimir Putin for such a decision, since it fits into his (Tramp) concept of reducing the cost of the state apparatus.
Trump:
I want to thank him (Putin), because we are trying to reduce the cost of the apparatus. Very glad. We now have smaller states. I do not think that these employees need to return (to Russia).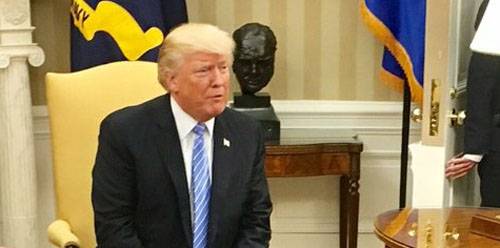 Trump's statement made a lot of noise in the first place in the American press. A number of US media have stated that "a planned action is taking place." Like, Trump agreed with Putin in Hamburg, that he would send diplomats, and this "is a blow to the interests of the United States." At the same time, the United States is the last to recall the fact that we are talking about retaliation from Russia - measures against the actions of another (previous) American president, Barack Obama.
Against this backdrop, the American press stated that Washington plans to "respond to the response" of the Russian Federation by closing one of the Russian consulates. It is noted that in this way the number of consulates will be equalized. Russia currently has US 4 consulates: in New York, Seattle, Houston and San Francisco. The United States has three: in St. Petersburg, Vladivostok and Yekaterinburg. Close one of the Russian consulates plan in early September.