Boeing and General Dynamics corporations presented their new development - Stryker Mobile SHORAD Launcher (Stryker MSL), the portal reports
aviationweek.com
. The American armored personnel carrier became a multipurpose combat system.
The new modification of an armored personnel carrier was created as a multi-purpose system capable of effectively fighting ground and air targets. The basis of the Stryker is the SHORAD (SHOrt Range Air Defense) shoot-off installation developed by Boeing Corporation, which was presented in the spring of this year as a replacement for the Avenger, a short-range anti-aircraft missile system based on the HMMWV. Stryker is the first "carrier" of the SHORAD shoot-off complex, while Boeing plans to place it on the M2 Bradley tracked combat vehicles, Warspot reports
Installing SHORAD shoot-off
Stryker MSL can be armed with AGM-114 Hellfire missiles (all versions, including Longbow), as well as advanced AI-3 and AIM-9X Sidewinder missiles. In addition, the installation SHORAD shoot-off can optionally be equipped with a combat laser to shoot down light drones without spending expensive missiles on them. According to the developers, the Stryker MSL will become a universal combat vehicle as part of the American army and will be able to replace the Avenger, providing air protection for combat units, and will also effectively hit any ground targets.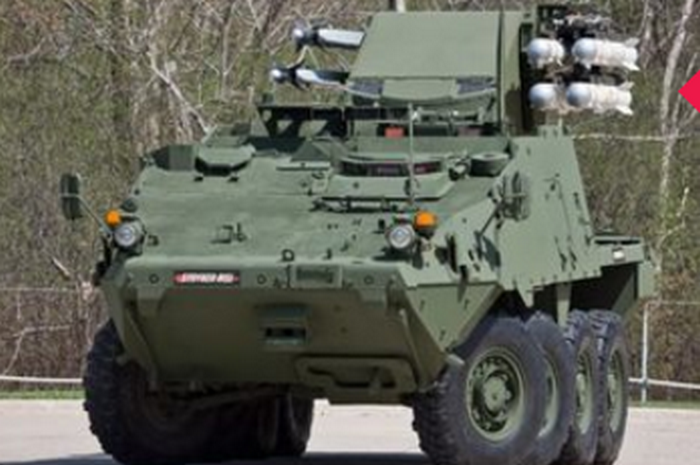 Stryker is a family of armored wheeled armored vehicles developed and manufactured by General Dynamics Land Systems, an American company. The Stryker armored personnel carriers entered service with the American army in 2003. The combat vehicle seats twelve people, including three crew members. Based on the Stryker, the wheel-mounted tank M1128 Mobile Gun System, the mobile mortar M1129 Mortar Carrier and more than a dozen other types of combat, engineering and auxiliary vehicles were created. Today, the American army is armed with about 4700 machines based on the Stryker.