Georgian-American exercises will be held at Vaziani training ground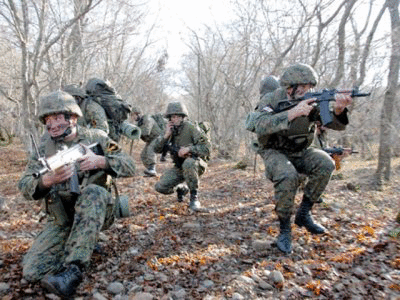 Joint exercises of the 10 Infantry Brigade of the Ministry of Defense of Georgia and the US Marines Agile Spirit - 24 will be held at Tbilisi Vaziani site, from 4 to 2012 in March. This was reported yesterday by the American Embassy in Georgia.
According to the information received from the embassy, ​​more than three hundred American marines of the rotational Black Sea forces will be involved in joint exercises. The base of these military forces is located in the city of Constanta (Romania).
The goal of the exercise that has begun is the improvement of the compatibility of the armed forces of Georgia and the USA (information from Interfax).
These exercises are annual. Another constant component of the Georgian-American military cooperation is also the implementation of a program for training Georgian military personnel by the US Marine Corps, with the goal of the participation of Georgians in peacekeeping operations in Afghanistan.
The Black Sea forces are in the US Marine Corps. Their service is based on the principle of rotation: in the Balkans, on the Black Sea and in the Caucasus. These forces cooperate with partner countries, assisting them in military development and strengthening stability. This is reported by the US Embassy in Georgia.
Ctrl Enter
Noticed a mistake Highlight text and press. Ctrl + Enter