Head of the Policy Department of the Center for the Study of Modern Turkey, Yuri Mavashev, at a press conference at the MIA "Russia Today" said that Turkey intends to resume operation "Euphrates Shield", RIA reports
News
24 August 2016, the Turkish army launched Operation Euphrates Shield against the militants of the terrorist group Islamic State *, with the participation of the Syrian opposition, took the border town of Jarablus in northern Syria and Al-Bab. Turkish Prime Minister Binali Yıldırım announced the end of March operations.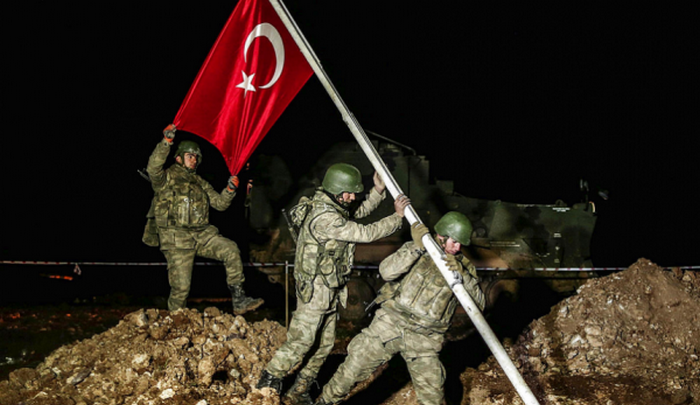 The tonality of statements by Turkish officials and President Erdogan, as well as some reports from think tanks that are closely involved in Middle Eastern issues, suggest that Turkey intends to resume the military operation "Euphrates Shield", which it began in August last year. It has been almost a year since Turkey managed to clear a certain territory in the north of Syria. All this tonality suggests that Turkey is not satisfied with the current state of affairs, as before, Turkey does not have a strategic initiative.
- declared Mavashev
According to the expert, now Turkey is concerned about the situation in the Syrian province of Idlib.
In fact, the situation has changed in Idlib, in the province under the patronage of the Turkish Republic. There, those on whom they put - the Ahrar al-Sham group lost all the growling control and now the Hayat Tahrir ash-Sham coalition has strengthened there, which means that An-Nusra *
He pointed out.
According to Mavashev, Idlib will now be the main target for the Turkish army.
Opinion Mavasheva to some extent confirmed the head of the Turkish media association, columnist Turkish newspaper Takvim expert Ekrem Kyzyltash, who said that if necessary, Ankara can start new military operations in Syria, like Operation "Euphrates Shield", or expand the scope of " The shield of the Euphrates "in Syria, and this step will be made solely out of the national interests of Turkey.
According to Kyzyltash, the activity of such terrorist organizations as YPG ("Kurdish people's self-defense") and PYD ("Democratic Union") harms Turkey's interests.
The US is arming the YPG and PYD against the terrorists of the Islamic State organization, under the pretext that it is these organizations that are fighting the IG, however, there are many facts that the YPG and PYD often very successfully cooperate with the IG *
- said Kyzyltash.
* Terrorist organizations banned in Russia