Since the Second World War, the US Army has become puzzled with the idea of ​​creating a "floating tank", and it was originally planned to create an entire division of amphibious armored vehicles, a military commentator writes
The National Interest
Joseph Trevitic.
The first technology of "transformation"
tank
in amphibian was proposed back in 1940 by the Hungarian engineer Nikolai Straussler. According to his idea, to give buoyancy to tanks, a system called Duplex Drive was to be installed.
The system consisted of a folding waterproof screen mounted on the tank hull and in unfolded form creating sufficient displacement to keep the tank afloat. A propeller with a power take-off from the engine was also installed on the tank.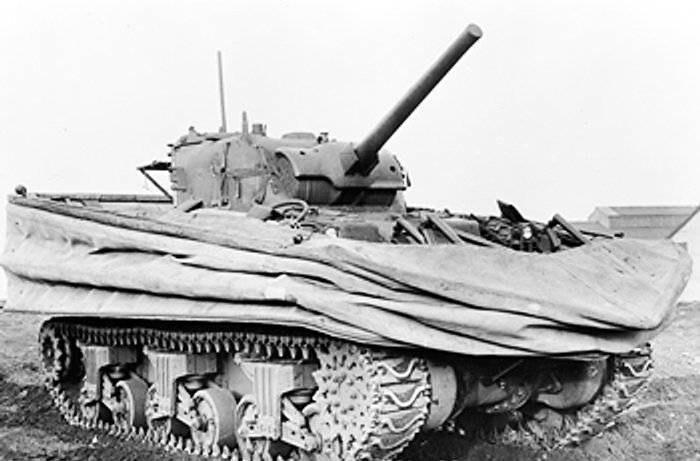 Tank МХNUMXА4 "Sherman" with a set of equipment DD ("Sherman" DD Mk I).
American and Canadian tanks equipped with Duplex Drive even participated in the Normandy operation, but soon they decided to abandon this system, since the screen was vulnerable to enemy fire, shrapnel and obstacles, which increased the risk of flooding the vehicle.
The United States decided not to abandon the idea of ​​a "floating tank" and in the year 1945 developed a new system - the T-6, which is the hull of a pontoon boat.
It was originally planned that a tank equipped with a T-6 would be able to overcome three-meter waves, while the system would not prevent the firing of machine guns.
In reality, the T-6 was abandoned even faster than the Duplex Drive. The system increased the size of the tank, and on the water, a machine equipped with a T-6 could reach speeds of no more than eight kilometers per hour, while the weight of the T-6 itself was 15 tons.
In conclusion, the author notes that the US Army continued unsuccessful attempts to create a "floating tank" until the end of the 1950-s, but in the end this idea was abandoned, and it all came down to conducting small private experiments.
For more information about amphibious tanks, you can read in the materials "IN" by following these links:
part1
и
part2