The active phase of the paratroop regimental tactical exercises of the Airborne Forces takes place on Wednesday at the Kislovo range near Pskov. During the demonstration regimental tactical exercises in Pskov, special forces were paratrooped on the Arbalet-1 parachute systems from a height of 4 thousand meters, reported in the press service of the regional administration.
A false landing of personnel from the AN-26 aircraft was also carried out in order to mislead the enemy regarding the actions and design of the landing force. In the rear of the enemy, the personnel conducted reconnaissance - found out the composition and weapons of the enemy, the presence of mine-explosive objects. Using intelligence, a factory for the production of improvised explosive devices, the enemy's command post was hit and destroyed. After capturing the airfield from a height of 1,5 thousand meters, the main squadron of the forward unit was parachuted under the cover of a special-purpose squad from the ground. After landing, the unit in close combat interaction advanced to the designated lines of blocking the militants, where they surrounded the enemy and weakened his aimed fire.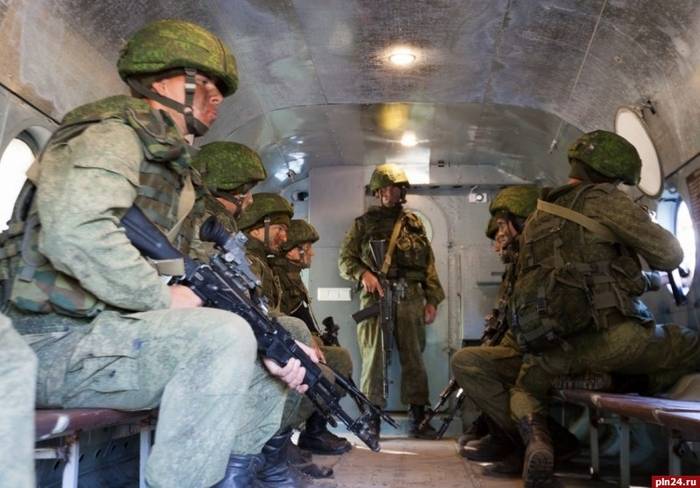 At the same time, 76 pieces of equipment were dropped from the IL-9 aircraft, followed by personnel. After landing, the paratroopers tracked their fighting vehicles and headed to the airfield. At this time, two army helicopters
aviation
inflicted a fire defeat on the enemy. As a result, after a two-hour "battle", the command of the command to destroy the enemy was successfully completed.
In total, about 2,5 thousand troops and 600 units of military equipment took part in regimental tactical exercises. Also unmanned aerial vehicles were involved.
Following the exercise, the commander of the Airborne Forces of Russia, Colonel General Andrei Serdyukov, handed over to the commander of the 104 Guards Airborne Assault Red Banner Regiment Denis Shishov the extraordinary rank of colonel.
According to the legend, the paratroopers of the separate 104 Guards separate assault regiment with other airborne units received the task to parachute and seize the airfield, reflecting the active resistance of the illegal gangs. The unit of the 76 division, the assault landing battalion of the 234 sub assault regiment, acted as a conditional enemy.