Romanian armed forces intend to adopt American attack helicopters. According to the portal
defensenews.com
, the Romanian state-owned company Romarm and Bell Helicopter Corporation signed a memorandum on the establishment of a joint venture for the assembly of AH-1Z Viper helicopters in Romania.
According to the memorandum, Bell Helicopter Corporation agrees to transfer to the Romanian side the technologies necessary for the production of AH-1Z Viper helicopters. The main purpose of the launch of the assembly is to fulfill the state order, reports "Warspot"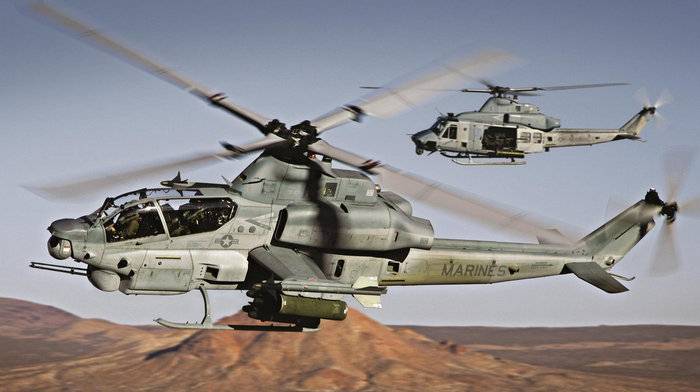 The parties have not yet disclosed the amount of the transaction and the number of helicopters to be assembled in Romania. These data will be made public after approval of the request for the purchase of helicopters by the US Congress, without the permission of which Bell Helicopter has no right to transfer technology to the production of military equipment to other countries.
The memorandum with Bell Helicopter was signed shortly after the Romanian Ministry of Defense approved a ten-year defense budget in the amount of € 9,8 billion. Thus, the country fulfills the requirement of NATO membership for defense allocation of at least 2% of GDP.
AH-1Z Viper (Eng. - Viper) was developed by Bell Helicopter Corporation and has been in service with the US Marine Corps since 2010. The helicopter can reach speeds of up to 296 km / h, and its combat radius is 231 km. The helicopter is armed with an 20-mm triple-barreled cannon with ammunition in 750 shells, and also has six pylons for the Hydra 70, AIM-9 Sidewinder, AGM-114 Hellfire guided and unguided missiles and other weapons. The cost of one helicopter is estimated at about $ 30 million.