As the
TSAMTO
On August 3, the first aircraft, SC-105, Amazonas, ordered for the needs of the country's air force, arrived in Brazil (SC-105 is the Brazilian designation
CASA C-295
) in the modification for search and rescue operations.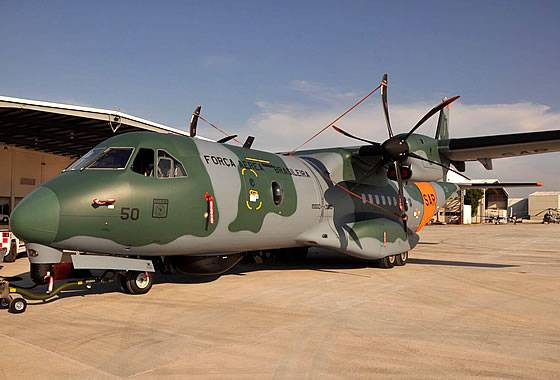 The contract worth 191,2 million euros, concluded with Airbus Defense and Space in April 2014, provides for the supply of three cars in this performance (it is possible that it will be reduced to two units). The agreement implies 5-year-old logistics of the aircraft. Their production is carried out in Seville.
The technique will complement the park of 12 units. C-295, ordered in 2005 and delivered in 2006 - 2009. They are part of the squadron "Arara" (1 / 9th
aviation
group), based in Manaus, and the Onsa and Pelican squadrons (2/10th aviation group) stationed at Campo Grande in the state of Mato Grosso do Sul. New machines are designed for the Pelican squadron.
Aircraft equipment will include an electron-optical system for searching in the visible and infrared wavelengths, an EL / M-2022A (V) 3 X-band radar with synthetic aperture, a satellite communications system, and a FITS control system. The crew of each SC-105 will be represented by at least 8 attendees: two pilots, a mechanic, two detection system operators (a radar station and a thermal imaging system for forward vision) and four observers.
The radar will provide simultaneous detection in the 360 grad. to 640 targets within a radius of 200 nautical miles (370 km). In addition, it allows you to get images of the earth's surface with a resolution of up to one square meter in the area of ​​2,5x2,5 km.
Externally, the new aircraft differs from the previously set C-295 with the wing tip and stabilizer coloring, orange stripes with the inscription SAR on the fuselage, four drop-shaped windows (two on each side of the fuselage).