US Senator John McCain, who has undergone an operation, is again practicing anti-Russian rhetoric. On the eve of an interview with a regional publication
The Arizona Republic
The senator announced that Russia is "more dangerous than the IG" (* the terrorist group "Islamic State banned in the Russian Federation). McCain even began to explain his point of view.
From the statement of the American senator, who closed the "sick-list" (or did not close ...):
Terrorist groups such as IS, of course, pose a threat. They will continue to carry out attacks. But the IG has neither the capacity, nor the technology, nor the ambitions to control the world. But Russia has. Russia can in no way be considered a friend of the world of freedom and democracy.
This McCain statement is more like a complaint about the fact that the IG (*) does not have sufficient weapons and technology. And if we consider that at one time Mr. McCain was photographed with people who later ended up in the ranks of the IG (*), we can assume the following: McCain promotes the idea of ​​not abandoning weapons and support of a terrorist group in order to use it in the interests of the ruling elites USA.
In addition to statements that Russia is "more dangerous for IG" for democracy, McCain said that pressure on Russia should be tightened in connection with the "hacker attacks on elections in the United States."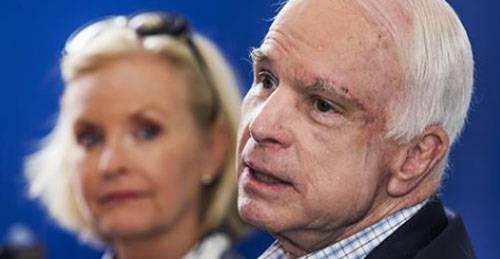 In general, the operation did not benefit the senator.