Moldovan President Igor Dodon today met with Dmitry Rogozin in the territory of the Russian Embassy in Iran. Following the meeting, Dodon said he intends to block all possible bills that could worsen relations with the Russian Federation. About this he made an entry on his page on the social network
Facebook
. The President of Moldova arrived in Tehran for official events on the occasion of the inauguration of Iranian President Hassan Rouhani.
As president of Moldova and on the basis of a legitimate mandate that the people of our country entrusted to me, I will defend the interests of the Moldavian people and intend to block by all possible legal means, up to a boycott of draft laws adopted by the parliament, the attempts of the ruling Democratic Party to sabotage and destroy our bilateral relations with the Russian Federation
- reported Dodon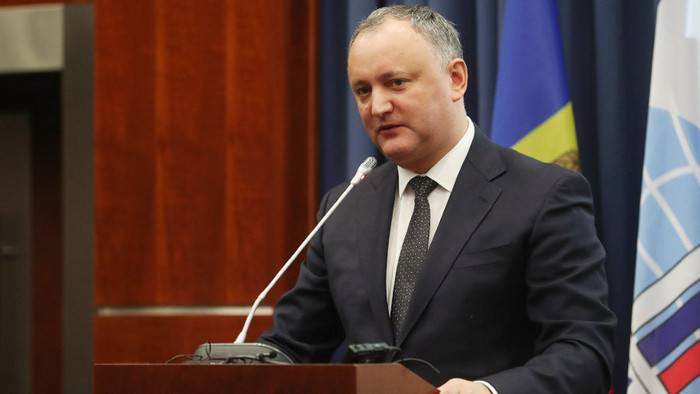 According to him, it is categorically unacceptable "to undermine the foundations of interstate diplomatic relations because of the narrow party interests and attempts of political survival of a particular party and its leadership." Dodon noted that the powers and responsibilities of the president in the field of foreign policy are clearly stipulated by the constitution, and cardinal decisions on which the future of bilateral relations with strategic partners depends should be made only in agreement with the head of the republic and discussed at meetings of the country's highest security council.
Realizing the aggressive policy of the Moldovan government, unprecedented, rude and unreasonable from the point of view of diplomatic norms, I urge our Russian partners to show wisdom, not to succumb to the obvious provocations of Moldavian temporary workers and continue the positive agenda that we agreed with Russian President Vladimir Putin
- noted Dodon.
Earlier, the Moldovan government declared Rogozin persona non grata. According to Andrei Galbur, Minister of Foreign Affairs and European Integration of the Republic, the corresponding measure was taken due to the fact that Rogozin recently made several statements that "have a derogatory, offensive and unfriendly character." The Ministry of Foreign Affairs of the Russian Federation protested to the Ambassador of Moldova. The ministry said that declaring Rogozin persona non grata in Moldova could have a serious destabilizing effect on the overall situation in the region.