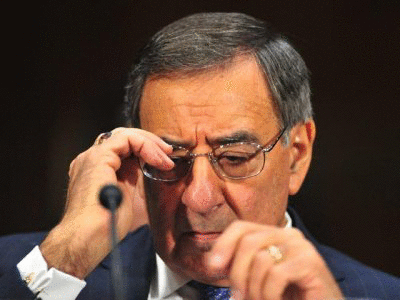 Leon Panetta, the head of the Pentagon, said on Thursday that if the United States were going to strike at Iran, then this strike would be much more powerful than the Israeli one. It is not about anything, but about "super-weapon". The report of Lieutenant-General of the American Air Force G. Carlyle gives this "super-weapon" a characteristic: it is intended to destroy nuclear facilities and is a powerful 13,5 ton bomb. This bomb can penetrate a concrete bin with a thickness of 65 meters.
In an interview published in the National Journal weekly, as Interfax reports, Panetta said that if the Israelis decide to strike, it will have an effect. But, as the head of the Pentagon said, it is obvious that the effect of a strike by the United States, if the States only go for it, will be much stronger.
Mr. Carlyle spoke at a conference devoted to defense programs. Lieutenant General said that
weapon
with such powerful penetration, it entered the US Air Force arsenal at 2011. It was designed specifically to attack countries that hide nuclear facilities underground. Carlisle quotes Gazeta.ru: "A high penetration bomb is a great weapon. We continue to improve it. If necessary, we will use it. "
Israel and the United States today are diametrically different in the question about the need for bombing Iranian nuclear facilities. Relatively peace-loving Washington believes that the sanctions applied against Iran are quite enough for the latter to completely abandon the military component of its nuclear programs, even if there is one (after all, the States have no evidence of Tehran's military plans).
But Israel, on the contrary, believes that the Iranians have come too close to creating an atomic bomb. Therefore, in order to eliminate the threat from Iran, Israel should deliver a preemptive strike against Iranian nuclear facilities.
The significant difference in the approaches of the United States and Israel on the Tehran issue was particularly pronounced in early March of 2012, during the meeting in Washington of Benjamin Netanyahu and Barack Obama.
During the talks, the US president convinced the Israeli prime minister that it was too early to talk about Iran's attack. Netanyahu insisted that Tel Aviv "could no longer wait that long." Netanyahu intimidated the US president about the consequences of Iran's possession of nuclear weapons, thereby seeking US support for their own plans.