At the Adriatic Charter summit in the capital of Montenegro, US Vice President Mike Pence made a speech in which he directly accused Russia of trying to destabilize the Western Balkan region and organizing an attempted coup in 2016 in Montenegro to prevent the republic from joining NATO. The broadcast was conducted on the website of the National Radio and Television of Montenegro (RTCG), reports RIA
News
As you know, Russia continues to attempt to define new international borders by force. Here, in the western Balkans, Russia tried to destabilize the region, undermine democracy and divide you among themselves, with the West and the rest of Europe
- said the vice president of the United States -
Russia's intentions were clear last year, when Moscow agents tried to thwart the elections in Montenegro, attack the parliament, and even kill the prime minister, in order to dissuade the people of Montenegro from joining NATO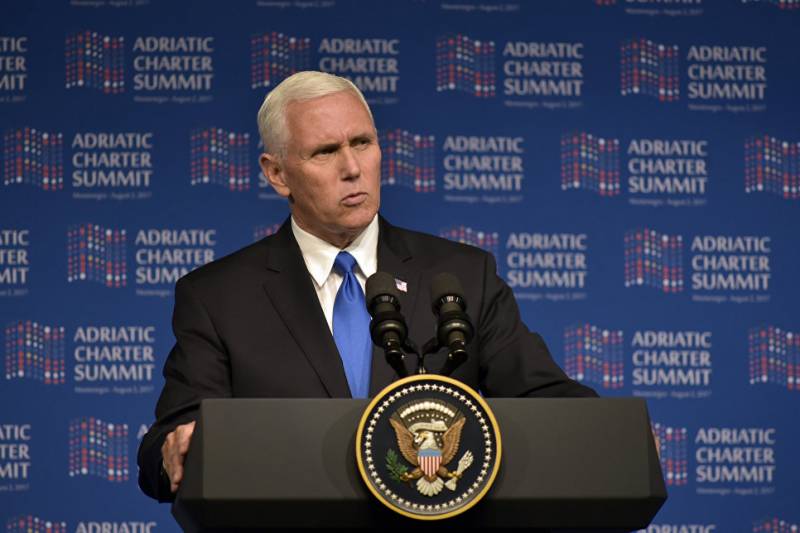 The replica of the American guest was interrupted by general applause, but it was not shown who of the present heads of government of the region supported his speech.
In early June, Montenegro officially became the 29 member of the North Atlantic Alliance. A significant part of the population of this former Yugoslav Republic opposed joining the alliance. Protests were held in the country.
Commenting on Montenegro's entry into NATO, Russian Foreign Minister Sergei Lavrov said earlier that in exchange for Montenegro's loyalty to anti-Russian sanctions and anti-Russian policy, NATO membership was also imposed on it.
Western politicians and special services, including American and European, previously accused Russia of preparing a coup in the former Yugoslav republic of Montenegro. However, specific evidence of these allegations never resulted. Official representatives of the Russian Federation called these accusations unfounded. Earlier, the head of the Russian Foreign Ministry called Montenegrin statements about Russia's "interference" in the affairs of the country unscrupulous. Prior to this, Russian Foreign Ministry spokeswoman Maria Zakharova said that the accusations against Russia were aimed at justifying their own membership of NATO membership before their own people.