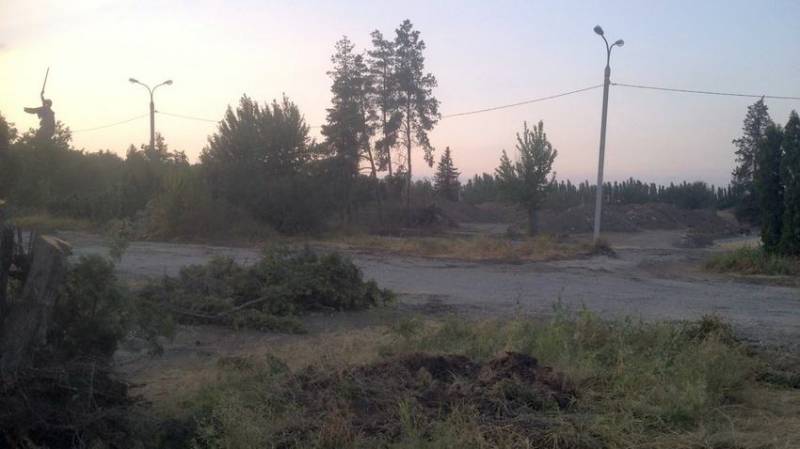 The wave of indignation that rushed the other day to the Internet about the atrociously felled "park of widows" forced me to pay attention to the issue. Indeed, it is not every day that happens. To cut down the park, planted by the widows of the dead soldiers and officers, for the sake of parking for the World Cup - it doesn't matter how much it climbs.
Moreover, I myself, as it turned out, passed through this park in 2014 year. I just did not know that this is exactly the "park of widows".
I must say that in 2014, Volgograd itself and its
historical
objects were somewhat surprising. Mamaev Kurgan was generally one continuous construction site. Everything was repaired and ennobled, which is quite normal on the eve of 2015 and the next anniversary.
I understandably did not save the photos of that visit to this park, and there was really nothing to shoot there. As if the whole Volgograd was either a kind of neglect (to a lesser extent), or a negligence with which they actively fought. The park was a so-so spectacle. Just our Volgograd conductor led us to the memorial a short way from the place where we threw the car. And when I turned to him with questions, I reminded about this place.
In general, I have no impressions about the "park of widows". Launched such a piece of land with a rather haphazard landing. Many trees were already dead. Plates that were in some trees, alas, did not see. But we just went through a certain territory. Pretty unsightly.
And the other day everyone knew about the "park of widows". And that the park was completely cut down and in its place it is planned to arrange car parking for the World Cup 2018.
The trees were really cut down, and that's all. This is an indisputable fact. And as completely dried, and quite a living. Bust, as they say, there is.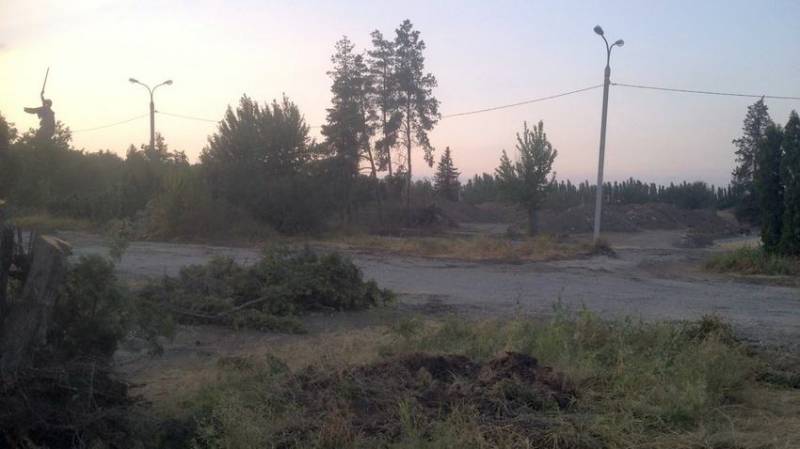 However, there are nuances.
The first. Why the noise around the logging raised after the fact? Cutting down so many trees is not a two-minute meeting. Plans for reconstruction and improvement were discussed at various levels, up to Moscow, which financed all this. Or tishkom and privately just podmhnuli solutions? It is illogical.
Second. By inserting this topic into the search, I got a very strange result. Who was the first to make a fuss? Again, all "ours": Kasparov, Rosbalt, Svoboda, Ekho Moskvy. Further, of course, bloggers were brought up, where without them?
Third. Was there a park? Here are the doubts. And here it is worth quoting not someone, but "Echo". Why? Judge for yourself.
"It is believed that they were landed in the park by relatives of those killed in the Battle of Stalingrad, therefore, unofficially this territory is called the park of Stalingrad widows. Earlier, local authorities recognized the territory as uncomfortable and decided to renew the park. "
There are no documents to rely on. It turns out that on a personal initiative, back in 1965, the residents of Volgograd planted trees and bushes in this place. However, without proper care, namely watering, for 50 and over, the park really fell into disrepair. Volgograd is a difficult city, there is really no water anywhere. Hence, the fully justified death of plantations, caused by the natural decline of those who planted, is quite likely.
Director of the Museum-Reserve "Battle of Stalingrad" in the Volgograd region, Alexey Vasin, said that Mamayev had never had a "park of widows".
"The territory that someone called the park is outside the irrigation zone. There was a landing material, but he had a very unsightly look. Trees do not live so much, half of them were diseased, the second one was dried. In addition, this area was not walking. "
In addition, according to Vasin, the "park of widows" simply does not exist. "This is from the category of mythology. Not a single documentary evidence of the existence of the" park of widows "is even in the archives."
There may be nothing in the archives. However, there are some traces. Lyudmila Zykina and Maya Kristalinskaya sang the song "In the park at Mamayev Kurgan" to the poems of Irina Goff and the music of Jan Frenkel. I think it was not taken from the ceiling.
But if we start from official documents, then everything looks somewhat different from what is stated in the main part of the media.
To begin with, the term "park of widows" is generally a replica. There is no such park. There is a memorial park at Mamayev Kurgan, which is present in all search engines. And there is a kind of "security territory", which seems to be no longer a memorial park, but also not a city territory.
The name about widows, in my opinion, was also not particularly used. If you strain any search engine, then the same "Google" until recently (a month ago) was not at all aware of this name.
Well, the statements that thousands of citizens planted trees in the park in memory of loved ones who did not return from the war are not confirmed by anything. But no one is going to deny that the landing by the forces of the inhabitants of Volgograd. Another question is how much. And what all this has become today.
Fourth. Then what? Cut down - cut down, and, clearly, not everything was withered and sick. Well, of course, breaking is not building. But then what? What is the prospect?
The fact that the World Cup 2018 has become a kind of impetus for improvement is not bad. Let this action serve at least something good. And here it is necessary to go to the relevant website of the administration, there you can dig up with a certain zeal information about what is planned.
So, in place of felled trees, the authorities are going to plant about 930 trees.
Rowan, maple, birch, bird cherry, linden, acacia, oak, Crimean pine, Scotch pine, spruce, larch and 1600 shrubs (lilac, cotoneaster, currant). It's like a good idea.
Also in the project indicated arrangement 8 000 square. m. pedestrian alleys and paths covered with paving slabs, 1 800 square. m. bicycle paths with asphalt pavement, 1 170 square. m roller tracks with rubber coating.
They plan to install video surveillance in the park, irrigation water supply (the most important thing!) And place 85 street benches, 73 decorative bins, 320 street LED lamps.
Do you see the park? On paper? I see. Completely, you know, a normal park like this. Like the official one.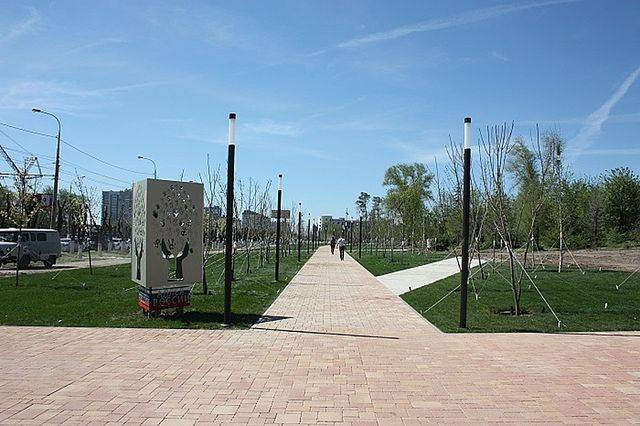 Yes, and parking. But not "instead of", but "plus". On 240 seats, an area of ​​0,7 ha. There is a difference? The total area allocated for reconstruction - 5,38 ha, parking area - 0,7 ha. Well, where is "instead" here?
It turns out, after all, a new park, in which there will be a parking place. Which, by the way, is logical. Poor in our time gets along with the erection of something and the lack of places for cars. Well, this is life today.
What is great is that while this "park" was in the condition in which I saw it, everyone was happy with everything. True, no one drove there, and did not tell about the fact that "they planted an apple tree for a widow". Not the place was, honestly. But it was enough to just start some work, and a wild howl and cry immediately arose. And then the legend of the "destroyed park of widows" was born.
Populism stinks, if that. And much. Of course, it is easier to raise the ora than to really take care of the park. Although no one seems to interfere with all 50 years of its existence. Power strain, for example. On the Saturday work out.
Well, now the trees are cut down. Again, there is a field for the application of force and energy. Ensure that everything is as it is written in the plans of the administration. It is easier than to pull yourself on a clean-up day on cleaning up the territory. Because the output will be not neglected and abandoned plantations, but quite a modern park with irrigation. The main thing is that everything takes place. But there is a certain confidence in this, from the experience of my city I can say that we have learned how to create parks and squares in our country.
Another question is that everything is as it should, and not as always.
Let's just say that I don't pretend to be the ultimate truth, it was a long time ago in Volgograd, they say, the city is changing. I'm not to judge. But it's possible to judge how harmful were the actions of the administration, and how much everything dumped on the Internet is true. And even need.
In any case, I think that our Volgograd readers will be happy to complement everything written.