The Czech company Aero Vodochody has begun the assembly of the first completely new training aircraft L-39NG, a deeply modernized version of one of the world's most popular "flying desks" L-39 Albatros. Writes
Aviation Week
At present, four aircraft are simultaneously assembled, which will participate in ground and flight tests.
L-39NG performed its first flight in September 2015 of the year. It was based on one of the old Aero Vodochody L-39. The plane received a composite wing and lost additional fuel tanks, which were located on the base Albatros wingtips. In addition, instead of the Soviet jet engine AI-25ТL, the upgraded American FJ39-44M was installed on the L-4NG.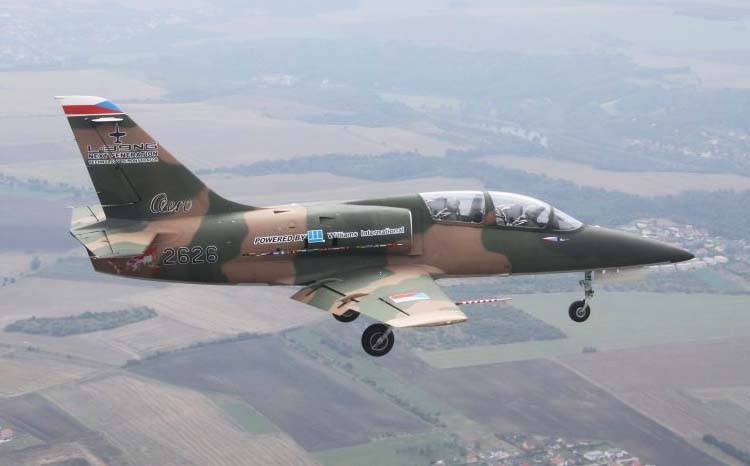 However, the aircraft that rose in the 2015 year, was made on the basis of the old L-39 airframe using a number of old systems. The development of a completely new airframe for the L-39NG has been conducted by Aero Vodochody since the middle of last year.
The development of a new airframe was needed in order to make the design of the aircraft more adapted to the changes made. In particular, the installation of a wing made of composite materials required the redesign of the center-section design. The mass of the FJ44-4m engine is 295 kilograms, which is 55 kilograms less AI-26TL. Reducing the mass of the power plant requires a new centering of the aircraft.
The upgraded aircraft received, among other things, new airborne electronic equipment from Genesys Aerosystems and an indicator on the Speel Praha windshield. In total, L-39NG received more than 800 new nodes, units and systems. From the original L-39 there are about 800 components in it.
The length of the L-39NG is 12 meters, and the wingspan is 9,6 meters. The maximum take-off weight of the training aircraft is 5,8 tons. Albatros can reach speeds of up to 775 kilometers per hour and fly over distances up to 2,6 thousands of kilometers. The aircraft is equipped with five suspension points for different types.
weapons
total weight to 1,2 tons.
L-39 traditionally used to train pilots in the USSR Air Force, and then in Russia. Currently, the Russian Aerospace Force of the Russian Federation has approximately 150 obsolete Czech training aircraft L-39, which have been supplied to the troops since the 1980's. These aircraft are used for advanced training of pilots, as well as for maintaining pilots flight skills.