There are two opposing opinions. According to the first, Putin and Trump have been elevated in one way, and the Western financial system is to blame for their elevation, which has closed its eyes to dubious activities for decades. The second opinion asserts that Trump is the exact opposite of Putin: the Kremlin puppeteer, using the KGB sleight of hand and skills, manipulates a simple American.
Journalist Anne Applebaum, columnist
Washington Post
, believes that Putin and Trump have risen in the same "crooked ways."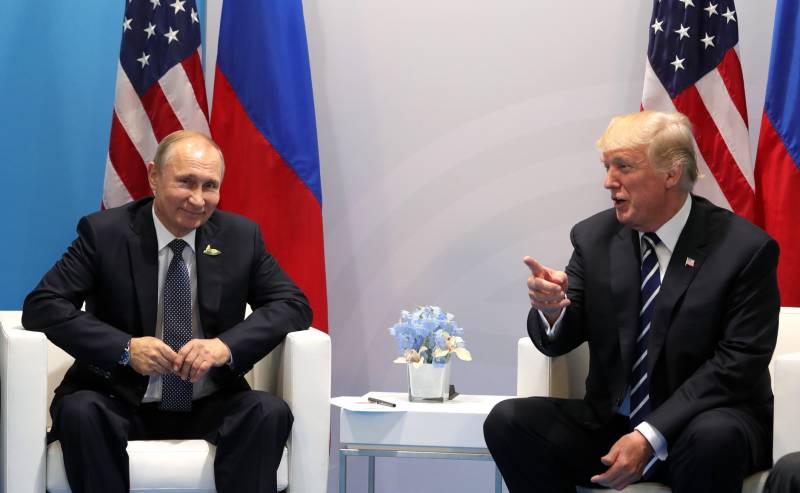 9 June 2016 Two members of the Trump family and campaign manager Donald Trump met with a Russian lawyer and her extended team at the Trump Tower. A total of 8 people gathered in the room. One of them was someone Kaveladze (Ike Kaveladze). Anne Applebaum doesn't know what "he really did there." But she can reflect on what constitutes a "specific financial culture, both American and Russian." It is the last culture that the named person represents.
Kaveladze is not a celebrity at all, however "in some circles" he is very well known, and he has been known there for "more than two decades". Since 1990, his company, Euro-American Corporate Services, Inc., has created more 2000 corporations in Delaware "on behalf of unknown, mostly Russian customers." Companies were used "to open bank accounts."
According to a report by the Government Accountability Office (State Chamber of Accounts, GSP) called Suspicious Banking, published in 2000, these bank accounts were later used to receive and transfer very large sums of money. GSPs found that the two banks "facilitated the transfer of about $ 1 billion from Eastern Europe through US banks and back to Eastern Europe by corporations created for Russian brokers."
Kaveladze claims that his actions were legal - and "he is right," admits Applebaum. The laws of the state of Delaware are really so weak that they allow anonymous Russians to transfer money to the United States and back without a doubt.
Such activities "were part of the business model that brought Vladimir Putin to power," the columnist points out. As documented in numerous books, the best of which, according to Applebaum, is Putin's Kleptocracy (by Karen Davish, Karen Dawisha), Putin was one of a group of officials, many of whom were associated with the old KGB and "systematically looted the Russian state ". According to Davis, these officials took state money using some methods, took money out of the country through pacifier companies, and then returned capital to Russia, using it to buy companies and property. They became rich, and many got rich simply fabulous. Later, they "used their wealth to conquer power," concludes Applebaum.
In this system, businessmen such as Kaveladze, who settled in the USA and Europe, played an important role. However, not only they participated in the case - the western side also actively participated. A number of American and European bankers, accountants and lawyers have done a lot to succeed their clients. For two decades, the journalist notes, Western real estate markets (New York, Miami, London) have provided many opportunities for Russian oligarchs (and many others). Those could spend money "with complete anonymity." In 2016, an investigation of the US Treasury by empty companies that bought luxury homes for cash in several urban areas of the United States revealed that over a quarter of such transactions in Manhattan and Miami are characterized by involvement in "suspicious activities".
This kind of "organization" suited everyone: the American real estate magnates, Russian oligarchs, the construction industry, etc. Over the past two decades, the elite real estate market in New York has been pumped up to the eye. But "there was money that was originally pumped out of the Russian state," the journalist believes. It was "the money that should be used for the construction of hospitals, schools and roads." However, instead, financial resources went to enrich "officials like Putin and the billionaires who surrounded him."
Trump is the same. At one time, the Russians enriched Trump and his family, points out Anne Applebaum. As noted almost ten years ago, in 2008, Donald Trump Jr., Russians invested "disproportionately" in many family assets.
In this sense, the rise of Trump and the rise of Putin are interrelated, the columnist is convinced. And it is not surprising that Trump "feels so close to the president of Russia." "It is not surprising that he is looking for meetings with him at international summits," she says ironically.
But it is not surprising that the investigation of the special lawyer Robert S. Muller III, as reported by the press, is already engaged in former family deals of the Trump family.
Anne Applebaum is confident that in the end the truth will triumph and there will be a lot of things said about the details of Trump's financial relations with the Russians. However, in her opinion, it is necessary to think about more important things. The simultaneous rise of Trump and Putin would probably have stopped, have Western governments and financial institutions acted as they should have in the past two decades, defining the transactions as illegal. Laws were not respected or did not work, the journalist said. Everything is so blind.
But even today much can be done. Americans could "stop registering all anonymous companies in states like Wyoming, Delaware, and Nevada." All owners would be obliged to "place their real names in public registries." "We could listen to Global Witness and other activist groups that constantly point out the connection between financial transactions in New York and human rights violations and poverty in distant countries," writes Applebaum, pointing not only to the United States, but also to the UK countries of Europe.
A very different opinion about Trump and Putin is given in the newspaper.
"Le Figaro"
.
According to analyst Emmanuel Grinshpan, Donald Trump is viewed by Russians as the opposite of Putin. Trump is considered to be a weakling and a clown in Russia.
The journalist cites the opinion of experts who believe that Trump is perceived by Moscow as a weak president who does not have the opportunity to act freely. This congress and the press were taken away from him. Moscow is not ready to somehow help Trump, since this president is not able to "abide by the agreements reached."
Trump looks like something like an evil clown, who is taken to laugh accordingly. "I agree with American leaders when they say that Russia is hurting America. Yes, we do harm and we will do harm ... "- quotes the publication of the deputy from the" United Russia "V. Nikonov. (Full quote: "I agree with American leaders when they say that Russia harms America. Yes, we will harm and harm - I dare to make such a responsible and paradoxical statement. We harm and will harm - with our enormity, with our military power, with our economic power ... ",
source
.)
And yet Russia, the publication notes, is in a certain sense satisfied: now it has its hands "untied". The Kremlin even snatched the concession from Trump: the US decided to stop supplying weapons to the "moderate rebels" in Syria.
It is becoming clear: Vladimir Putin will apply "methods of the KGB" to Trump. Already applied - this was shown by the recent meeting of the two leaders in Hamburg. After the meeting, it became clear: Mr. Trump can be manipulated by taking him to the "development", built on a cold calculation. If Trump sympathizes with Putin, then Putin will trump and twist.
If we recall the material of Anne Applebaum and add a bit of conspiracy to it, it becomes clear: Mr. Trump and his family have long been taken not only in the "development", but also in the "turnover". In essence, it is surprising: most recently, many of the world's media ridiculed Barack Obama, considering him a weakling. Now, the same publications look at the magnifying glass of the insignificant Trump, who is dancing now to the tune of congressmen, now to the accordion of Putin. In between, she is shaking with fear of Fox News and the Washington Post.
Better to be a simple billionaire than a billionaire and president, yes, Mr. Trump?
Observed and commented on Oleg Chuvakin
- especially for topwar.ru