As the
InoTV
, The National Interest has appreciated the possibilities of the Russian
Fighter Su-35
in the event of his confrontation with the American
aviation
.
According to the publication, the Su-35 is the best fighter currently in service with the Russian Air Force. Its purpose is to gain superiority in the air. This model represents the crown of development of Russian aviation of the 4th generation. It has unrivaled maneuverability and advanced electronic and
weapons
systems thanks to which it is in no way inferior to Western "brothers", in particular, the F-15 Eagle, Eurofighter and Rafale.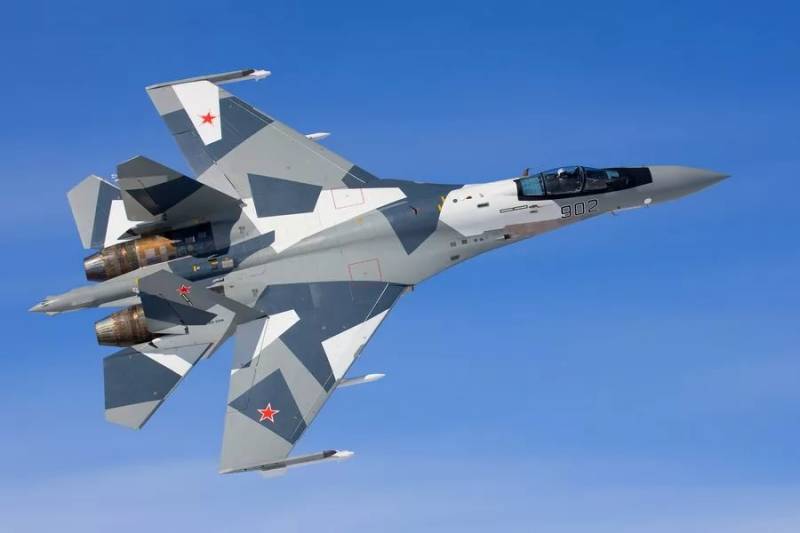 High maneuverability is provided by thrust vectoring engines that can rotate in different directions, which contributes to maneuver during yaw and roll performance. Also thanks to this, the Su-35 has a very large angle of attack. The speed limit is 2,25 Mach at high altitudes, it is set very quickly. The distance of the action is 3,5 thousand km without additional tanks and 4,5 thousand km with two suspended tanks.
In this case, the combat potential of the aircraft in a collision with subtle fighter 5-th generation remains in question. Radar absorbing materials used in the design are not enough to significantly reduce the visibility of the machine.
Su-35 is at least equal — if not superior — to the best western fighters of the fourth generation. However, the big question is whether he can withstand fifth-generation fighters like the F-22 and F-35.
Maneuverability provides significant advantages Su-35 at ultra-short distances. In this case, the entry into service of the newest missiles will lead to a sharp increase in the distance of the battlefield, which levels this superiority. In this case, the Su-35 will have to rely on the high speed, which distinguishes it favorably, and the means of electronic warfare.
As believed in the US Air Force, the Su-35 will not be able to detect the F-35 at long range. In this regard, the American fighter will be able to water the enemy with missiles until it enters the enemy's infrared scanning zone.
Defenders of the Su-35 believe that passive and ground-based radars will assist the Su-35 in finding the enemy. However, these tools rarely give accurate results and, as a rule, cannot be used to aim weapons.
Perhaps Su-35 is the best in
stories
Aviation fighter for maneuverable combat at a short distance, which is capable of carrying missiles on board; However, whether these advantages will be enough to capture air supremacy in the era of subtle fighters is an open question.
Of no small importance is the small number of aircraft: the RF Air Force has only 48 units in service, according to plans their number will increase by 10 vehicles annually. It is assumed to export 24 machines to the PRC. Aircraft may be purchased by Algeria, Venezuela, Egypt and Vietnam.