The arches of the railway and automobile parts of the Crimean Bridge are assembled and equipped with the necessary equipment for more than 90 percent, reports
RIA News
Post General Contractor of construction.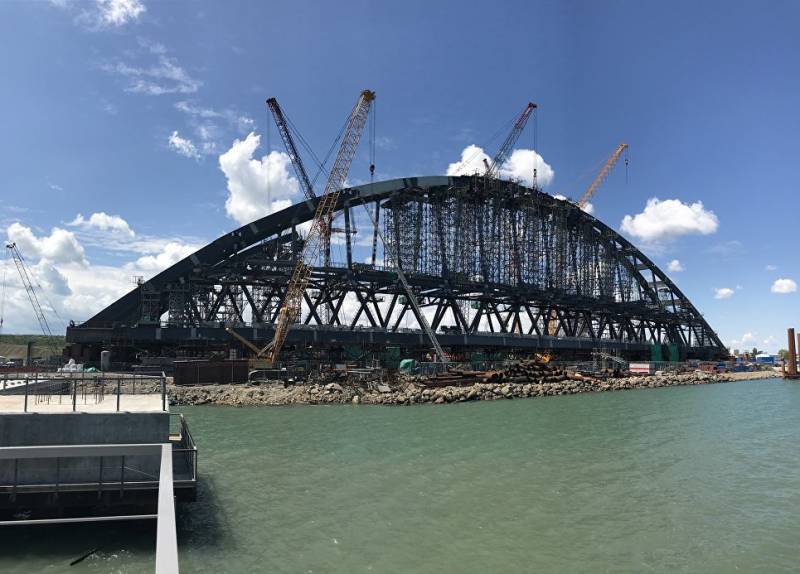 Under the railway part of the bridge there is an arch with a hard puff in the form of through trusses. Currently, work is underway on the arrangement of this arch by various operational systems. Under the road part of the bridge is going to arch with a tight pull with a ride to the bottom. The readiness of both arches is over 90%
The release says.
It is reported that "both arches are assembled at the technological site on the Kerch side, the pre-assembly of the arches is completed." They are equipped with operational elements and will be protected with a corrosion-resistant coating.
"The length of each arch span is 227 meters. After installation on the supports, they will ensure the passage of vessels through free space 185 meters wide and 35 meters high from water. The height of the arches - 45 meters. The arch will be painted white and will be visually brighter than the other bridge structures, "the press service told.
The height of the fairway supports has almost reached the design level in 35 meters, and at present they are being prepared for the installation of arched spans.
"After the installation of crossbars, the fairway supports, which will take over the railway arch, have almost reached the design height - 35 meters from the surface of the water," the report says.
It is specified that crossbars are "metal structures with a length of 25 meters and weighing more than 270 tons each. They unite the stands and will help to evenly distribute the load from the arched spans. "
At present, the installation of crossbars on supports, which will take over the road arch, is being prepared. Their weight and dimensions are even larger - each bolt weighs an 400 tone.
The bridge across the Kerch Strait, which connects the Krasnodar Territory and the Crimea, will be the longest in the Russian Federation, its length will be 19 kilometers.