According to the blog
BMPD
, 22 July 2017 from St. Petersburg to the sea for the first time went to the factory trials completed by construction at Admiralty Shipyards JSC (part of United Shipbuilding Corporation JSC) for the Russian Navy, the lead diesel-electric icebreaker supporting the 21180 project Ilya Muromets ".
The construction of the 21180 head icebreaker Ilya Muromets (serial number 02470) is carried out under a state contract concluded by Admiralty Shipyards JSC with the Ministry of Defense of the Russian Federation 21 in March 2014. The 21180 project (the main designer is MV Bakhrov) was developed by JSC Vimpel Design Bureau together with the Admiralty Shipyards JSC, the technical and design engineering was carried out by the Admiralty Shipyards engineering center. The actual construction of the icebreaker was launched at the Admiralty Shipyards in October 2014 of the year, the groundbreaking ceremony was performed on 23 of April 2015 of the year. The launch of the icebreaker Ilya Muromets was carried out on 10 on June 2016 of the year. The contract period for the delivery of the icebreaker is the end of 2017 of the year.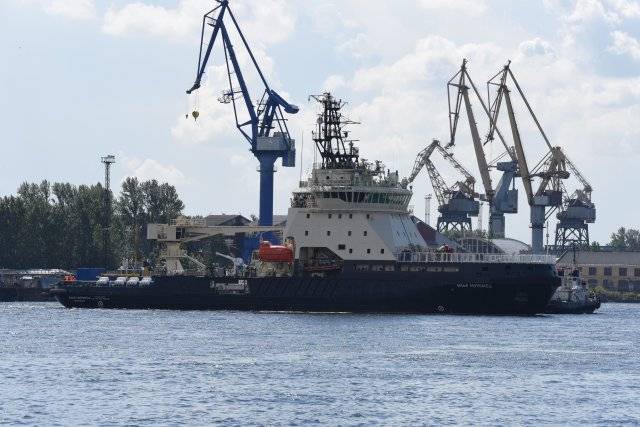 The icebreaker Ilya Muromets was the first ship of this class to be built for the Navy in several decades.
fleet
Russia, and was built in accordance with the Rules of the Russian Maritime Register of Shipping for the class KM Icebreaker 2014 [6] AUTI ICSFF1WS EPP HELIDEC Speciale purpose ship. The icebreaker will become part of the Northern Fleet and will be used to support the activities of the Arctic grouping of the Navy.
Earlier it was reported that the entire Russian Navy plans to build four icebreakers of this project. However, in April 2017 of the year, information appeared that the Ministry of Defense of Russia for financial reasons decided to abandon the construction of the 21180 series, and intends to issue the Shipbuilding Company Almaz JSC a state contract for the construction of a small icebreaker of the modified 2017M project by the end of 21180. displacement 4 thousand tons and cost about 6 billion rubles, which should be a reduced and cheaper version of the icebreaker "Ilya Muromets."