According to the online edition
News
", In the Rostov region deployed the newly formed 68th
tank
regiment, in service of which the modernized T-72B3 tanks with additional protection are composed (the official name of the modification assigned by the military department).
They are distinguished from standard T-72B machines by additional protection of the sides, rear and upper part of the body, which, it is said, allows them to withstand the impact of anti-tank missiles, armor-piercing and cumulative projectiles.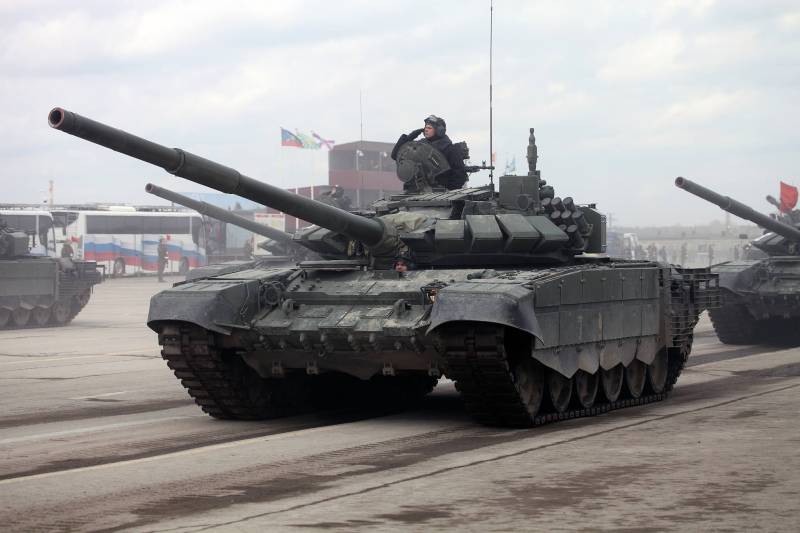 The regiment was formed on the basis of the 205-th motorized rifle brigade and joined the 150-th motorized rifle division. In the future, it is supposed to equip this unit with other tank divisions. In June of this year, the regiment reached alert. Currently it is deployed in the village of Kadamovsky, Rostov region.
Information about the development of the T-72B3 with additional protection was first announced in the 2015 year. Their deliveries began at the end of 2016. The machines, in addition to additional armor, are equipped with diesel engines with power 1130 hp, modern aiming complex. Installed dynamic armor "Relic" and "Contact".
The problem of all modern tanks is that they lead their ancestry from the times of the Cold War, where they had to attack the enemy head-on. Therefore, they have a very well developed front end protection. In modern military conflicts, the enemy can attack the side and rear projections, and even from above. Therefore, T-72B3 received additional protection for all these areas. From the sides, the car is covered with the "Relic" dynamic protection blocks. Tower - system "Contact-5". In addition to them on the tank are protective grilles and screens from cumulative ammunition.
- explained the military expert Alexey Khlopotov.
According to him, the tank also mounted a multichannel Sosna-U sight and automatic target tracking, which allow to operate effectively at night, firing both conventional tank shots and missiles at a distance of 5 km.
The 68 Tank Regiment was the heir to the legendary 68 Guards Zhytomyr-Berlin Red Banner, the Orders of Suvorov, Kutuzov, Bogdan Khmelnitsky and Alexander Nevsky. Along with the 1 Guards Tank Regiment of the Taman Division, the 68 Regiment is one of the most famous and titled tank units of the Soviet and Russian armies.
The unit was formed in February 1942 of the year in Stalingrad as an 93-I separate tank brigade. The brigade took part in the battles on the Kursk Bulge, liberated Right-Bank Ukraine, as well as Lviv. In February, 1945, the 93 OTBR was renamed the 68-th tank brigade and was awarded the title of "Guards". After the end of the Great Patriotic War, the brigade was reorganized into a regiment that remained in the group of Soviet troops in Germany. At the beginning of the 1990-s, the 68 TP was brought to Russia and reduced to a storage base. In 2005, the regiment was finally disbanded.