Another de-escalation zone appeared in Syria. According to the Ministry of Defense of the Russian Federation, in Cairo, following an agreement, an agreement was signed between the Russian Ministry of Defense and the moderate Syrian opposition with the mediation of the Egyptian side on the operation of the Eastern Guta de-escalation zone, reports
RIA News
Documents signed in the development of Astana agreements. The agreements define the boundaries of the de-escalation zone, the places of deployment of the control forces and their powers, as well as routes for the delivery of humanitarian aid to the population and the free passage of residents.
The first humanitarian convoy to Eastern Guta and the removal of the wounded are planned for the coming days, the ministry said.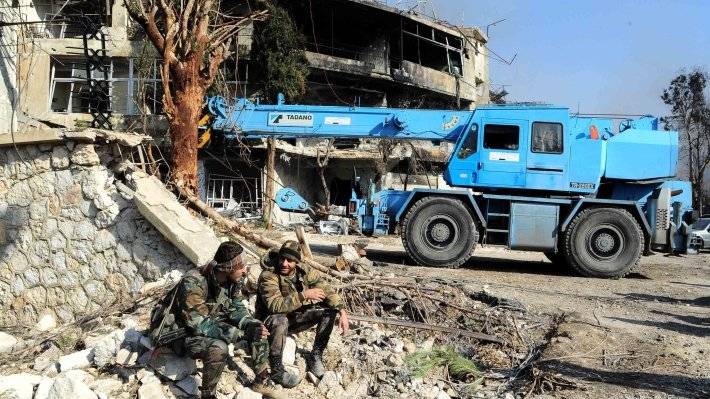 The head of the political bureau of the opposition group "Jaish al-Islam" Mohammed Allush called the agreement "the best for the Syrian situation." According to him, the division forces between the group and government forces will be present in the zone, "this is considered part of a political settlement or preparation for it." Allush added that the parties agreed to include the Dzhobar region in this zone.
Observation of the de-escalation zone in Eastern Ghouta will most likely be conducted by Russia and the United States without Iran, said the secretary of the People's Diplomacy movement, Mahmoud Afandi.
In May, Russia, Turkey and Iran signed a memorandum on the creation of de-escalation zones in Syria in Astana and acted as guarantors on it. Determining the boundaries of these zones, as well as resolving the issue of monitoring and monitoring the observance of the cease-fire regime, was a key issue in the last round of talks, which was held in Astana in early July. The parties discussed the introduction of de-escalation zones in Eastern Gute, Idlib and Homs.
In addition, work on creating a similar zone in the south of the country is being conducted by Russia, the United States and Jordan. It includes the districts of Dera'a, Quneitra and Suweida. As Russian Foreign Minister Sergey Lavrov noted on Friday, the main parameters have already been discussed, details are being decided.